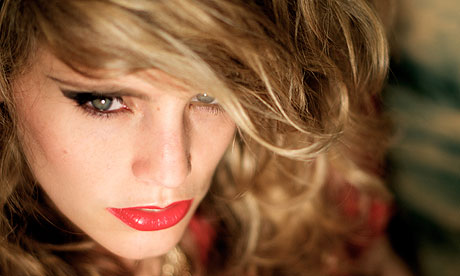 Six things you need to know about South Londoner Anna Calvi, whose self-titled debut album dropped yesterday on Domino Records ($9.90 on iTunes, do it):
1. She's reminiscent of PJ Harvey—perhaps first and foremost, given the vocal timbre and emotionally bleedy lyrics—so it's not surprising to discover that Rob Ellis, Harvey's drummer, is the disc's co-producer. But there are plenty of other touchpoints in there: The operatic bombast of Florence and the Machine and the darkness of Joan as Police Woman or Nick Cave (whose outfit Grinderman she joined on tour last fall). We even hear a little Divine Comedy in there. (Her MySpace page tags her musical genre as "Tango" on MySpace—cheeky, yes, but correct insofar as it describes her flair for deep drama.)
2. Her first single, Jezebel (not on the album), takes an old Edith Piaf song and throws it over galloping spaghetti-western guitars (harmonium abounds). Also—and this is kind of random—the thumping drums on Suzanne and I more than recall Don't You Forget About Me by the Simple Minds--so Calvi's got one foot firmly in pop.
3. Brain Eno's a fan; he's called her "the biggest thing since Patti Smith."
4. Calvi is a big fan of the harmonium. What's not to love?
5. Both of her upcoming shows in London sold out very, very fast (she's just added a third).
6. She has three gigs planned for NYC in early March, at Joe's Pub (March 8), Mercury Lounge (March 9) and Glasslands (March 10). We'd pick Joe's Pub as the spot most conducive to her particular brand of bombast.
Jezebel – Anna Calvi mp3 download (via Pitchfork)