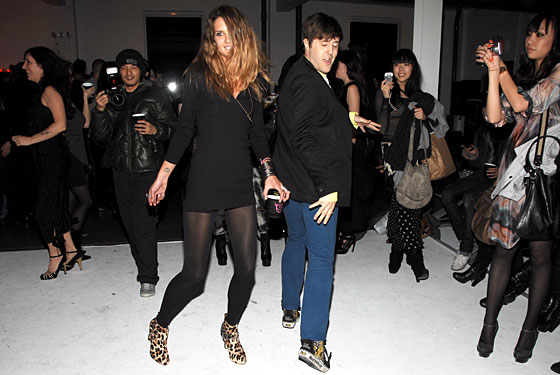 Erin Wasson at her party last season.
Fashion Week is fast approaching. We can tell by the insane influx of invites — not to shows, but to parties. If you thought the economy was lessening the amount of free Champagne and nights out, you'd be wrong. Aside from the all-hands-on-deck fiesta that is Fashion's Night Out, and the usual suspects of Marc Jacobs, Narciso Rodriguez, and the Erin Wasson fêtes, there's a whole calendar of parties awaiting the lucky few who are invited. And if you haven't scored a golden ticket, you can view the photos online here the next day. Check out the week's top events.
WHAT
WHERE
WHEN
WHO
WHY
Anna Sui for Target Private Shopping Event
54 Crosby St.
Sept. 9, 7–10 p.m.
Ms. Anna Sui and, though we can't name names, we hear a Gossip Girl or two.
First dibs on the collection!
The World of Women & Supreme
511 W. 25th St.
Sept. 9, 9–midnight.
Paul Rowland and V Magazine host a party to celebrate their recent collaboration .
A room full of gorgeous models. 'Nuff said.
The Launch of Dossier's Fourth Issue
Tribeca Grand, 2 Sixth Ave.
Feb. 11, 10 p.m. until ...
The Dossier editors and the Misshapes.
Contributors this time include fashion's cool kids Keegan Singh and Kate Lanphear. Here's your chance to rub elbows.
Carlos Miele, Vogue, and Rio Summer
66 Ninth Ave.
Sept. 11, 8 p.m.
Isabeli Fontana and Caroline Trentini
A Brazilian supper hosted by Vogue and it benefits charity. Win-win.
Alejandro Ingelmo Party
TBA
Sept. 11, midnight
The amazing young shoe designer and perhaps some of his recent collaborative partners (Pugh, Victoria Beckham) will grace us with her presence.
Because we need to be near his shoes any way we can.
Masks and Mirrors
440 W. 14th St.
Sept. 12, 7 – midnight
Diane Von Furstenberg and Vanity Fair host, along with Olivia Wilde and Paul Haggis.
It's your chance to hobnob with Hollywood, fashion, and media elite in one go.
Ron Arad: "No Discipline" Launch Party
MoMA, 11 W. 53rd St.
Sept. 15, 8:30–late
Hosted by Linda Evangelista and Maurice Ohayon
This is Arad's first major solo exhibit in the U.S. In other words, the party is going to be huge.
Richard Hambleton Exhibition Party
560 Washington St.
Sept. 15, 6–11 p.m.
Vladimir Restoin Roitfeld, Andy Valmorbida, and Giorgio Armani host.
Fashion royalty comes together.
MCM New York Launch
Saks Fifth Ave.
Sept. 15, 7–9 p.m.
Coco Rocha hosts.
MCM is Joy Gryson's new luxury handbag line. Ooh and ahh over what you will undoubtedly want to carry next season.
What Goes Around Comes Around
351 West Broadway
Sept. 15, 9–midnight.
Irina Lazareanu, Robert Verdi and Becka Diamond host.
You know you're tempted to have Robert critique you.
Pamela Love Cocktail Party
Milk Studios, 450 W. 15th St.
Sept. 16, 6–8 p.m.
Pamela and friends.
Because we love her jewelry, and this is a great way to end the week.
Previously on The Cut...

Copyright FASHN - NY Mag