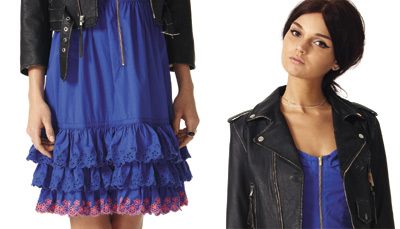 HAVE FEITH: Tracy Feith may best be known for his flowy resortwear, but until everyone can afford to go to resorts again, why not shop his upcoming line for Target, get a kiddie pool and pretend your backyard is the Maldives? Feith will helm the Bullseye's next GO International capsule collection, a roster of flower-power-with-an-edge pieces which (mark your calendars) hit stores on May 17.
GET ON THE BUS: Refinery29, the Times Square Alliance, and Fashion Center BID conspire to bring you Save Fashion, a designer-overstock outlet at… the Port Authority Terminal? Well, yes -- specifically, the new Blank SL8 storefront, right off Eighth Avenue. It runs through the full month of May with changing stock; inaugural offerings are from Rogan, Gryson, Acne, Catherine Holstein, and others, all slashed to half-price and lower.
BB TALK: Today and tomorrow only, head to Crosby Street where the expertly-curated BBlessing boutique is holding its offsite sample sale. Expect merch at 80 percent off regular prices from such covetable names as Eugenia Kim, Rag & Bone, Opening Ceremony and many more, plus BBlessing's own limited-edition tees and accessories.
Copyright FREEL - NBC Local Media