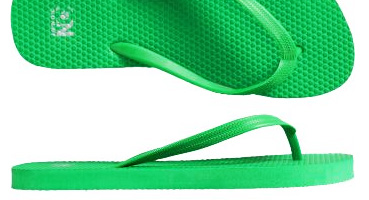 THE BEST $1 YOU'LL SPEND ALL SUMMER: Here's some summer-wardrobe math for you: If you snap up flip-flops in every single solid color Old Navy makes on Saturday, you'll spend $14. That's because for one day only, the official shoe of summer is on sale for a single US dollar. Find locations at oldnavy.com.
CLOVER CLUB: Thistle & Clover, the Fort Greene boutique that makes our plastic melt every time we're in the neighborhood, is holding a delirious Memorial Day Weekend sale. They're taking up to 40% off cult labels like Wren, Trovata, Jamison and Lorick. Wren's classic navy trench is $271 (from $387), for instance. Some deals are also available online. 221 DeKalb Avenue at Clermont, Fort Greene; (718) 855-5577.
RUGGED: Admit it, the "denim" category of your wardrobe could likely use a little… updating. Get yourself to one of the painfully hip G-Star's three city locations, where they're slashing prices on current season goods by as much as 50% -- and you can even get an extra 10% with this flyer. (Find locations at g-star.com.)
OPEN FOR BUSINESS: Opening Ceremony is not only dropping prices by up to half on its own designs starting Friday, it's also discounting gorgeous spring and summer items from labels they carry (go straight for the Vena Cava). Starts 5/22; 35 Howard Street at Broawday, (212) 219-2688.
BOOKISH: You could have your entire holiday shopping list wrapped up before June with this one: Saturday through Monday, Strand Books will hold a massive art book sidewalk sale, where high-end tomes (monographs, art history books, photography collections, design bibles, you name it) will be priced from $1 to $20. 828 Broadway at 12th Street; (212) 473-1452.
Copyright FREEL - NBC Local Media