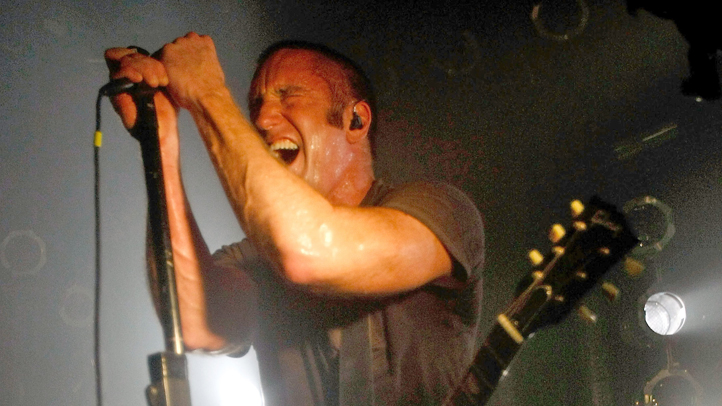 The Academy of Motion Picture Arts and Sciences announced this year's Oscar nominees on Tuesday, and we are still appalled.
Like anyone who actually likes movies and not prestige nonsense, we find the omissions of Charlize Theron and Albert Brooks baffling. But this is a music blog, so we are going to focus our carping to the ways in which the Academy's song and score picks were so tepid that even your "Help"-loving grandmother is all like "no Trent Reznor? WTF?"
Out of a reported long list of at least 39 eligible songs, only two were nominated for Best Original Song: Bret McKenzie's wonderful "Man or Muppet" (from, obviously, "The Muppets") and Sergio Mendes and Carlinhos Brown's "Real in Rio" from "Rio."
Songs had to receive a certain amount of votes to even get on the ballot; it should shock no one that the same institution that in 2000 gave an Oscar to Phil Collins for some Disney tripe, instead of Aimee Mann's "Magnolia" work or Trey Parker and Matt Stone's "Blame Canada," have a limited palette and couldn't think of anything past a cartoon and a (pretty great) Muppet movie.
They also managed to bungle things in the Original Score department. In 2011, innovative composers, many of them relatively new to the movie game, challenged staid notions about the way the so-called "background" music can interact with images, and created evocative sounds that helped deepen our emotional response to what was happening onscreen.
So of course the Academy gave not one but two nominations to John Williams. To be fair, we haven't seen "War Horse." Perhaps Williams isn't recycling himself the way he has been for at least two decades, but we doubt it.
Here are Nonstop Sound's picks for this year's five biggest music-related Oscar snubs.
1. Trent Reznor and Atticus Ross.
Reznor and Karen O's industrial strength reinterpretation of Led Zeppelin's "Immigrant Song" wasn't eligible (covers don't count in the Original Song category). But the Academy has no such excuse to explain why the Nine Inch Nails frontman and frequent collaborator Atticus Ross' score for David Fincher's "The Girl With The Dragon Tattoo" didn't get a nomination, especially when the same pair won last year for "The Social Network." Reznor and Ross' collection of ambient drones, downtrodden pianos and innovative sound manipulation (even the bells sound depressed) perfectly conjures the chill of the movie's Swedish setting, and intensifies the film's all-consuming mood of repression and dread.
2. The National, "Think You Can Wait"
The characters in Thomas McCarthy's "Win Win" are all fundamentally good people trying to get by in a world that seems intent on burying them alive. Barely-restrained desperation is what Brooklyn's most forlorn sons do best, and here they gave McCarthy's tale a feel of dignity and grandeur. The National are often called "cinematic," but critical raves couldn't help get this song noticed by the Academy.
3. Jónsi
Cameron Crowe has been on the Sigur Rós tip for a little while, and even used their song "Untitled #4" during a memorably odd scene in "Vanilla Sky." But he outdid himself by hiring Sigur Rós frontman Jónsi to score his recent film "We Bought A Zoo." Jónsi delivered his signature otherworldly beauty, tilting things a bit more to the ambient side of his personality so as to not overwhelm the story. He also contributed the original song "Gathering Stories," which has a horn part that sounds like a sample from the so-called Golden Age of film. Both song and score were ignored by the Academy.
4. Cliff Martinez
We know what you're thinking, but College and Electric Youth's "A Real Hero" was first released in 2009, and thus is ineligible. Director Nicolas Winding Refn had envisioned this Ryan Gosling thriller as sort of a violent John Hughes movie. He couldn't have picked a better musical collaborator than composer Cliff Martinez, who spent the '80s drumming in punk groups and for arty weirdos like Captain Beefheart and Lydia Lunch (he was, oddly, also in the Red Hot Chili Peppers for a minute) before becoming one of Steven Soderbergh's go-to composers. He bathes "Drive" in icy synths and New Order drum patches that ensure that even when things get intense on screen (appropriate song titles: "Kick Your Teeth," "Skull Crushing") there's still an unshakable sense of New Romantic beauty pulsing beneath the surface.
5. Will.i.am featuring Jamie Foxx, "Hot Wings (I Wanna Party)"
If the "Jesse Eisenberg is a talking bird" opus simply must be recognized, Academy, there's no point in going halfway and not picking the most notable song from the soundtrack. Suffice to say, when word of this masterpiece surfaced at the beginning of 2011, it quickly became an internet meme, solely on the strength that it was assumed that a song with that name and those creators would surely be the dumbest thing ever. Will.i.am featuring Jamie Foxx more than lived up to the challenge, only to have Sergio Mendes eat their lunch. Which, when you think about it, is a feeling we can all relate to.