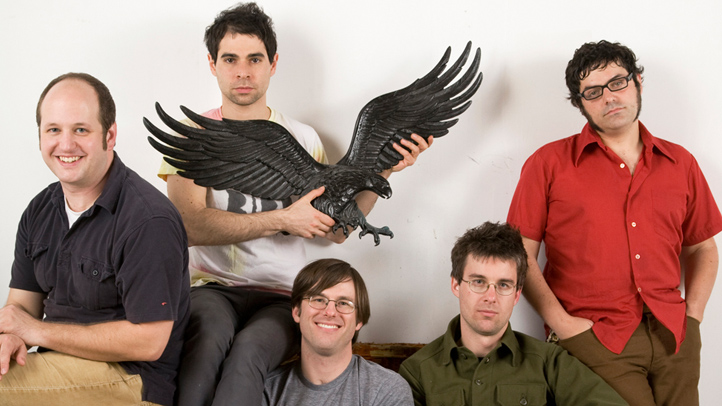 Brooklyn's noise-vintage aggressors Oneida are celebrating the release of Absolute II, the final piece of the band's Thank Your Parents triptych, this weekend with a tireless and impressive three-day festival. It goes down like this at Secret Project Robot: Friday, the band will play all of Preteen Weaponry and Rated O, the first two pieces of Thank Your Parents. Saturday, a cadre of the band's buds will join them for OCROPOLIS, a ten-hour marathon improv set, complete with pot-luck and barbecue. At midnight, the band will break for a DJ-dance set, and then reconvene at dawn to perform all of Absolute II. This just doesn't sound real.
Oneida's thoughtful drummer Kid Millions found time to speak with us about the hooha.
Dale W. Eisinger: It's a pretty epic deal – where did this all stem from?
Kid Millions: We started to do the long performances at the behest of All Tomorrow's Parties. Flaming Lips asked us to play but we needed to submit some kind of interesting alternative style performance. They didn't want us to just do a normal set. So I thought about maybe a 10-hour performance. They liked the idea and we went with it. We did that in 2009. And then we were asked to do it again by Godspeed! You, Black Emperor. So we did it again last year.
DWE: Do you have people who watch these entire ten-hour sets?
Kid Millions: [Laughs] I don't know. I mean, I'm playing. I think probably unlikely.
DWE: How does it feel for you to be up there for that long?
Kid Millions: It's a challenge. It's great to get to play for that amount of time, and to explore that much with those guys is a great thing. So, it's grueling but I feel like it's worth it. A lot of stuff gets done. We've really evolved as a band because of this new phase.
DWE: Can you hear any of that evolution on any of these three albums in your triptych?
Kid Millions: Yeah, Absolute II has definitely emerged from some of that. It's somewhat informed, but I would say the next album is going to be more clearly informed by it. We're kind of putting the final touches on it. There's no title yet, but it's more kind of related to those long experimental weird places that we've gotten. And yeah, a lot of Rated O is that. Just trying to break everything down and build it up again from scratch, some of the more experimental things. But I think the influence of the long performances is really going to be represented in the show on Saturday, when we actually do it. And the album we're trying to finish that's got that stuff in it.
DWE: Who are some of the collaborators you have coming up on stage for the marathon improv?
Kid Millions: We have David First from the Notekillers, Christy and Emily, our friend Jonah Rapino, he's in Debo Band from Boston, Shah Motia, who's from Ex Models and Knyfe Hyts, is playing guitar, one of our oldest fans, Dave Kadden, is going to be playing for us – I'm not sure what instrument. But yeah, it's friends. Black Dice is going to come up and jam. So there's a bunch of local yokels, you know? It's going to be really cool.
DWE: You guys have taken over Secret Project Robot basically for this entire weekend. Are you just going to leave your stuff set up there and camp out?
Kid Millions: Yep. There's going to be food, on Saturday. Lots of food. And I'm sure it will be an all-night thing. I think we'll probably crash but I don't know where I'm going to sleep. But yeah, we'll play from 2 to midnight and then take a break and come back at dawn to do Absolute II. It should be stupid, but fun.
DWE: And where is Absolute I?
Kid Millions: Excellent question. If you want to know about Absolute I you have to come to our studio. There's a poster there that inspired the title. It's from an old work-business theorist from the '80s. It's a poster we found at a thrift store. It has the definition of absolute I. It has to do with quality and defining your customers or something. So Absolute II is our next level.
DWE: The triptych is called Thank Your Parents. Are your parents going to be at the show this weekend?
Kid Millions: Mine aren't. But maybe. There should be parents there. There's certainly going to be lots of food and lots of places to escape the noise.