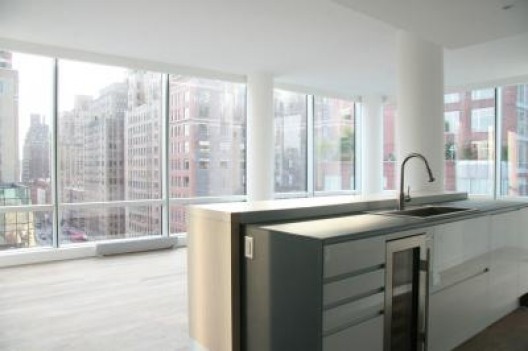 We're not sure what to make of the spate of rental listings hitting the market at YVES, the green hunk of glass on the corner of West 18th Street and Seventh Avenue. Closings in the 41-unit building appear to have kicked off, and while it's no shock to see new condo units being offered for rent, it's odd to see them offered in bunches, as The Real Estate Group has done, and Citi-Habitats is apparently now doing.
According to the copy on this two-bedroom YVES rental listing, offered at $7,750 per month, "NEW 1, 2 and 4 BEDROOM apts coming to market, plus one studio for 3150. Prices for the 2beds range from 7750 - 9500." Whatever is going on with the building, we're not complaining, because courtesy of said listing we get our first glimpse inside an apartment at YVES. And here's the real shocker: Is that Adrian and Natalia we spy in one of the photos?
· Listing: 166 West 18th Street [Citi-Habitats]
· YVES [Official Site]
· YVES coverage [Curbed]For more stories from Curbed, go to curbed.com.
Copyright CURBD