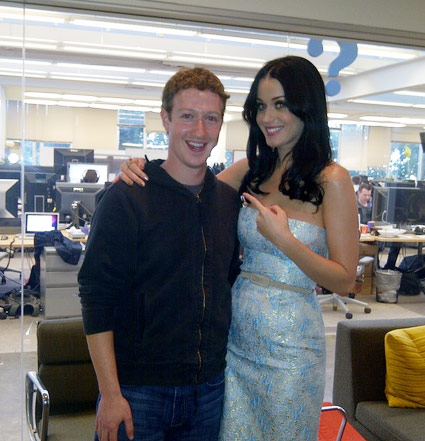 A quick FYI: Katy Perry—last seen going strapless (Wednesday casual!) in the Facebook offices yesterday, where she hung out with CEO Mark Zuckerberg* and made the announcement about her 2011 tour—hits N.J.'s Prudential Center on June 19. (*Our favorite part of this pic of them both is the serendipitous question mark over her head, like, who's this guy again?)
VIP package pre-sales start tomorrow, January 21 at 12PM, and there's a general on-sale date of Friday, January 28 at 10AM.
UPDATE: Swedish popster Robyn will open select dates of the Perry tour (singer-songwriter Marina & the Diamonds will alternate on opening duty.) Excellent chance Robyn wouldn't miss the NY-area stop, but we haven't confirmed it yet.
It's part of the 41-city** California Dreams tour that kicks off June 7 in Atlanta (**there are a couple more "special dates to sprinkle in" to the existing schedule, Perry follow-tweeted).
From the official people, about how the whole thing will go down:
Katy is planning on interacting with fans through social media networks throughout the California Dreams tour. Using Facebook Places/Deals, fans will be able to check into the venues each night to receive special treats. Fans will also be able to submit their own photos of the show via Twitter which will be incorporated into the live show and also live on www.katyperry.com. In addition, Katy has also partnered with I Love All Access to provide a variety of VIP ticket packages, including premium seats, meet and greets, photo ops, pre-show parties and more.
Your on-sale info:
Katy Perry: The California Dreams Tour 2011
June 19, 2011, Prudential Center, Newark, NJ
VIP packages AMEX pre-sale: 1/21 at 12pm – 1/24 at 12pm
AMEX pre-sale: 1/22 at 10am – 1/27 at 5pm
VIP packages pre-sale: 1/24 at 12pm
General on-sale: 1/28 at 10:00am
To purchase tickets, go to KatyPerry.com/tours. To see Katy hanging with billionaire nerds in Palo Alto at the Facebook offices, head to LiveStream.com.