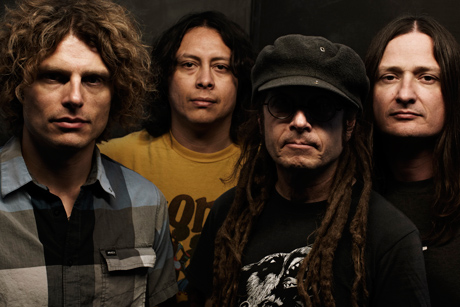 Hardcore supergroup OFF! and reunited Swedish art-punk Refused are the first announced performers for Williamsburg Park, a new outdoor venue that will open this summer. They play on July 18; tickets go on sale this Friday.
According to Brooklyn Vegan, the Williamsburg Park will be located at 50 Kent Street, between North 11th and 12th streets.
The venue will host a mix of pay shows and Open Space Alliance-curated free shows and will replace the Williamsburg Waterfront, which hosted both free and not-free outdoor shows for the past few years but tended to upset some nearby residents.
A full lineup is expected to be announced soon, but they're OFF! to a great start.
OFF! is proof that you can never keep a good punk down. Frontman Keith Morris was provoking audiences during the birth of the hardcore movement, and his work with Black Flag and Circle Jerks set the bar high for frontman intensity.
He teamed with Burning Brides guitarist Dimitri Coats a few years ago to work on a Circle Jerks reunion that didn't quite pan out; instead we got an inspired new unit (that also includes members of alt-lifers Redd Kross and Rocket from the Crypt), proving that cranky old man rants about inconsiderate drivers and vein-pooping punk vitriol blend well together.
OFF! will be touring heavily in support of their upcoming self-titled full-length debut, which will be released on May 8. You can check out new song "King Kong Brigade" here. In addition to the Park show, they will play a headlining show at the Bowery Ballroom on May 29.