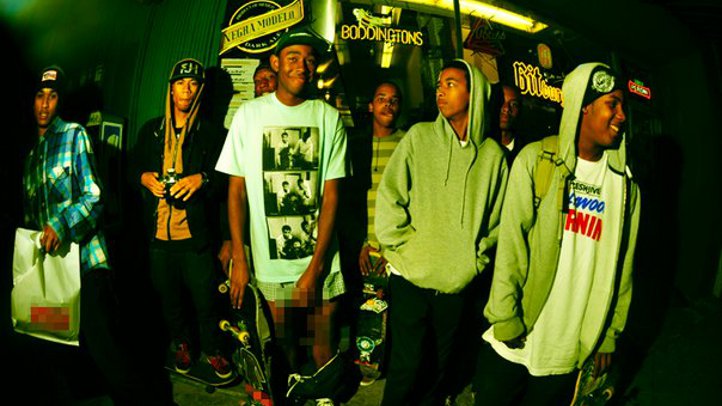 Tyler, The Creator has gone on record as having little patience for blogger types, so we hope he doesn't stab us with a Pitchfork for pointing out that Odd Future will play Hammerstein Ballroom on March 20.
Tickets are on sale here. This will be their biggest New York show yet, and approximately their 10,000th stop here since their legendary debut at Webster Hall in late 2010.
Odd Future's run of spring shows will coincide with the release of their new mixtape OF Tape Vol. 2, which will be out on the date of the New York show and will feature all your favorites. (We're still not sure if we like Taco more than Jasper. It's hard to choose!) New solo albums from Tyler and Mellowhype are also due later this year.
But Odd Future have always been about more than just the music. They first gained attention for their confrontational onstage behavior and Tyler's free-wheeling Twitter account as much for their violent lyrics and Wes Craven beats.
They're now looking to spin off some off that notoriety onto other platforms, such as their upcoming Adult Swim show "Loiter Squad."
Starting March 25, tune in to watch Odd Future prank unsuspecting civilians (poor Williams Sisters fans) and engage in all kinds of curse-word-soaked tomfoolery. Each stop on their spring tour will feature a preview of "Loiter." They will also open a pop-up shop for all your exclusive swag needs.