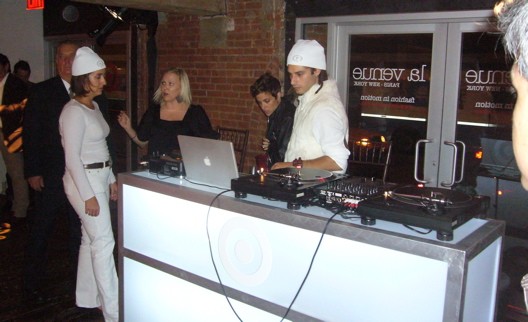 Last night's two big late night events, Sweet and The Macy's Afterparty, took place way the hell out on 28th between 11th and 12th. But by the looks of the turnout, the foodies were able to make their way through the hordes of teenagers and B&T crowds filling the streets outside Mansion and Home to see Sam Ronson and the 50 plus pastry chefs. Sweet's venue was gorgeous, the soundtrack, excellent, and the event seemed like real success. The vital flaw here however is this: no normal person would want to consume more than a handful of dessert samplings at once. It was more daunting than trying to tackle Burger Bash, and we still have some eater's remorse re that situation.
That said, the pastry chefs really came to play. The highlight: a peanut butter and jelly chocolate covered graham cracker crusted lollipop from Jean Georges, which they "ran out of" incredibly quickly (but which you could get bootleg until the end with minor pleading and a secret password).
The Macy's After Party was basically a DJ, a dance floor, some mostly decent drinks, and a parade of mini hot dogs and sandwiches. In and out time: 10 min. Swag bag contents: a bottle of water, cranberry juice, cologne, Craisins. Yes people, Macy's busted out the Crasins.
· NYWFF Wire: The Grand Tastings [~E~]
· All NYWFF Coverage [~E~]For more stories from Eater, go to eater.com.
Copyright EATER