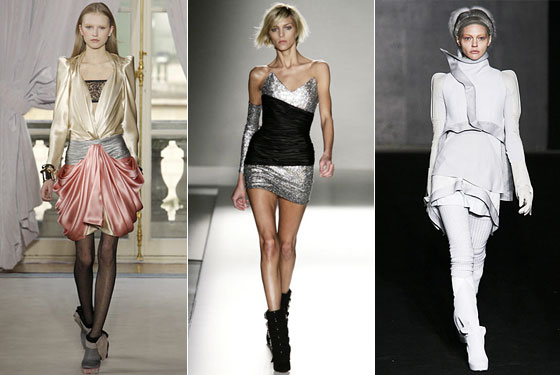 From left, Balenciaga, Balmain, and Rick Owens.
The Paris shows are here and they are knocking our thigh-high boots down to our ankles. Take in Balmain's eighties shoulders, Balenciaga's luscious draping, Rick Owens's crazy boots, and more in our new runway slideshows straight from Paris Fashion Week.
Nina Ricci
Rue du Mail
Bruno Pieters
Lutz
Balmain
Rick Owens
Kris Van Assche
Anne Valerie Hash
Gareth Pugh
Balenciaga
Read more posts by Amy Odell
Filed Under: fall 2009, paris fashion week, paris is here!
Copyright NYMAG - NY Mag