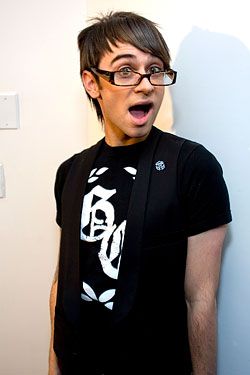 Christian Siriano just inked a deal to design a line for Payless. The line will debut during New York Fashion Week and be sold in 400 Payless stores across the country. The New York Post suggests that this is another chapter in his book on Selling Out. He has, after all, designed a scarf to hold a cell phone and rakes in $10,000 a pop for appearances at events. But we think a deal to design things the average fashionista can wear is a great thing for someone like Christian. The Post reports:
"I have a pretty huge fan base, not to toot my own horn," Siriano said. "But a lot of those are 'Project Runway' watchers and they're young. They're in school and aspiring to be artistic and they can't afford my clothes."

Excellent point. Plus, times are tough for upstart designers, even reality TV-famous ones. Siriano's spring 2009 collection won't be sold in stores like Saks and Bergdorf Goodman, who elected not to place orders for his $650 pants and $2,500 dresses in These Economic Times (you can find his pieces at Intermix, however, if your bank account is so cushioned). But is the average customer in those stores looking for pieces by reality-TV stars anyway? Abaeté inked a Payless deal before selling pieces to Saks and Neiman Marcus. Maybe Christian can do the same.
'RUNWAY' WINNER FINDS A GOOD FIT WITH PAYLESS [NYP]
Related: The Struggles of Christian Siriano

Read more posts by Amy Odell
Filed Under: christian siriano, make it work, neiman marcus, payless, project runway, saks fifth avenue, shoes
Copyright NYMAG - NY Mag