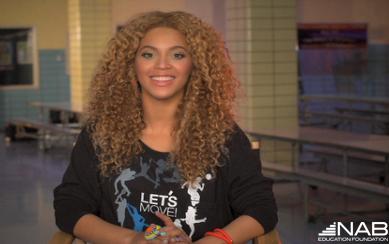 UPDATED: Beyonce's Official Music Video for Let's Move!
We told you last month about the Beyonce flash workout devised as part of First Lady Michelle Obama's Let's Move! campaign -- now we've gotten a video preview of the workout, and details on how schools can register.
In this video released by Let's Move!, Beyonce explains the flash workout, scheduled to take place at 1:42 PM EST on May 3: "It's all about promoting the benefits of healthy eating and exercise," she says. "But what we want to do is make it fun by doing something we all love to do -- and that's dance."
All middle schools are invited to participate and upload video and photos of their workout to the Let's Move! Facebook page; one school in each television market will be chosen for television and radio coverage. Schools can register at nabef.org.
The flash workout dance routine is taught in this video featuring a re-recorded version of Beyonce's "Get Me Bodied":
This version's lyrics act as choreograph instructions for the flash dance workout:
Mission one
Let me see you run
Put your knees up in the sky 'cause we've just begun, hey

Mission two, this is how we do
Jump a couple to the right, to the left, let's move, hey

Mission three, can you dougie with me,
Put your own little swag on this Swizzie beat, hey

Mission four, if you're ready for more
Jump rope, jump rope, get your feet off the floor, hey
To learn more, visit nabef.org/letsmove.