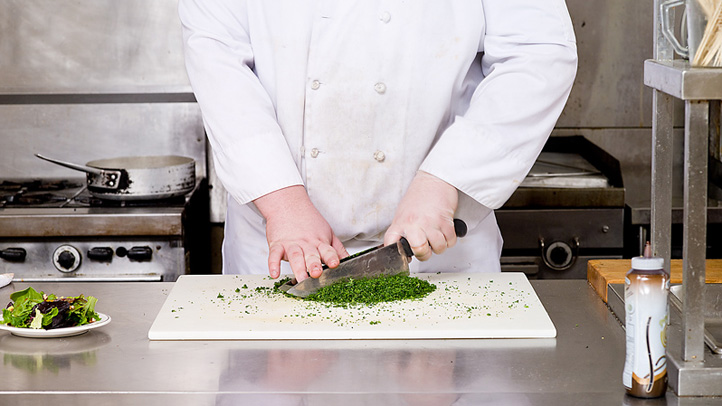 You already know what MyPlate looks like. You've even seen it in practice. Now the USDA's new icon for healthy eating has been put to the test with some of New York City's high-profile chefs.
MyPlate encourages you to split your plate into three portions, with half devoted to fruits and vegetables, and the rest split evenly between whole grains and protein. There's a small glass nearby allotted for dairy.
The New York Post challenged three New York chefs to create a vision of their ideal MyPlate entree. The website has photos of the chefs' MyPlate creations, but here's a breakdown of what they contained:
Eric Ripert; chef, Le Bernardin
PLATE: Salmon, ratatouille, instant black wild rice, and strawberries for dipping in a side of Greek yogurt
"Salmon is a fish that, if you're not wealthy, isn't expensive," Ripert told the post. "For fruit, because they're in season, I would have strawberries drizzled with honey, which could be mixed with a little bit of Greek yogurt on the side."
Lidia Bastianich; chef, TV host, cookbook author
PLATE: Whole-wheat shells with spinach, bacon and cecci
"A very diversified, aromatic meal with a little fat and a lot of color gratifies you mentally, so you don't need as much quantity," Bastianich said.
This dish ($25) will be available off the menu at Felidia for the next two weeks.
Bill Telepan; chef, Telepan
PLATE: Pork with peas, carrots and a side of bulgur-wheat
"We eat a lot of fruits and vegetables in my family, so this dish is perfect because it has a little bit of meat surrounded by mased peas and carrots, which are in season right now," Telepan told the Post.
This dish ($31 plus $8 for the bulgur wheat side) will be available off the menu at Telepan for the next two weeks.
RELATED: Sarah's Plate: Putting Some Real Food on the USDA's "MyPlate"