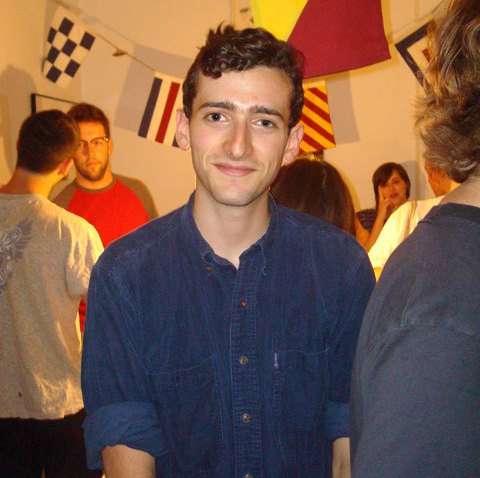 Interns don't always get a whole lot of credit, but they have finally taken the spotlight at a NoLita gallery's latest exhibit that showcases intern work, "The Intern Show." And wouldn't you know -- the gallery slave-laborers are talented artists in their own right.

To kick-off the show off with a bang, the gallery, Art Since the Summer of '69, let its own intern, Jacob Berezin, lead the project and take center stage in a combo opening/birthday bash for the 22-year-old aspiring curator.

"It's not just in the art world that interns are considered low rub," Berezin said while munching on a chocolate cupcake. "They are generally under-appreciated."

This certainly wasn't the case last night. The space at Art Since the Summer of '69 is not much larger than a walk-in closet, but somehow at least 40 trendy 20- and 30-somethings had packed themselves inside and spilled out into the hallway by 8 p.m., talking amongst artwork that was lit by a single yellow light bulb hanging low from the ceiling.

About 10 adorably artsy interns from galleries, like PS1's Olaf Breuning and Gagosian, were more than thrilled to take part in the exhibit.

"Being an intern has been really amazing, but to tell you the truth, I've been let down because I've begun helping artists [with their exhibits] and not more on my own stuff," said Ginny Benson of PS1. "It feels good to have my own work on the walls."

Jacob, a tall, skinny Sarah Lawrence graduate and art history and philosophy major, has been at the gallery for a year. He promised he wasn't being egotistical when he volunteered his birthday -- Aug. 22 -- as an idea for a late-summer celebration for an exhibit.

"I said it as a joke but they actually took me up on it!" he said.

Co-directors Hanne Mugaas and Fabienne Stephan must be the best bosses ever because they loved the idea. Art Since Summer of '69, a non-commercial gallery, is always trying to take on unique themes for their shows, so the idea was perfect.

You can check out the fresh, young talent from 1 to 6 p.m. Saturday and Sunday until Sept.15. Location is Art Since the Summer of '69's on 195 Chrystie Street, Suite 303.