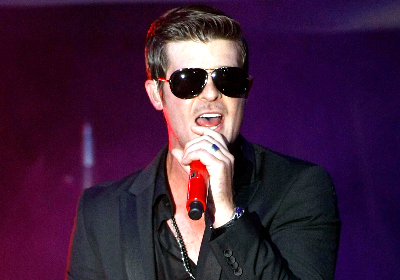 Robin Thicke, best known for his smooth vocal stylings, revealed last night that he developed his chops by listening to some of rap's hardest acts.
"I grew up on thug rap," the young crooner said Thursday at the Hugo Boss' Beat the Heat rooftop bash in Manhattan to celebrate their Spring and Summer collections.
"I'm Mr. NWA," he continued. "I know every word of Dr. Dre and Snoop Dogg on 'Deep Cover.' I memorized it the day it came out. ... There are a bunch of rappers that I'm always making records with; they gave me my honorary black card. But it can be easily revoked. If you act up it will be revoked."

The exclusive event featured performances by Robin Thicke, Jannelle Monae and sets by DJ Cassidy and Mel Debarge against the backdrop of skyline on the roof Hugo Boss had transformed into an outdoor concert space.

At the fashionable soiree, Robin admitted that he likes to keep his show wardrobe simple and classic.
"I've always believed in the look of all black," he said. "I'm a Johnny Cash man. That's how I feel comfortable. All black, you take me seriously."
Thicke said he loves playing in New York City but has his choice venue.
"I have to shout out to my boy Richie Akiva, with Butter and 1Oak," he said. "We've been family for 10 years. I opened up Butter 10 years ago when he hosted my album release party at Butter's opening party. Just a few months ago we did that party again and it's always amazing."

Also seen mingling by the DeLeón Tequila-sponsored bar was Cobra Starship, Emma Snowdon-Jones, Niche Media's Jason Binn, Jaslene Gonzalez, Pras and celebrity blogger Micah Jesse. Micah was heard talking excitedly about his 24-hour birthday bash happening this weekend at Hamptons hotspots Day & Night and Georgica.