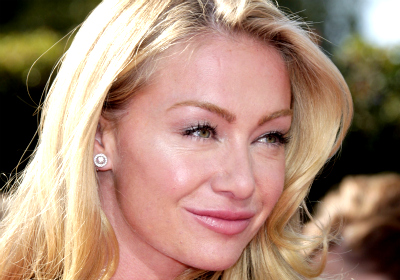 Starlet Portia de Rossi said the burden of keeping her emotions bottling up and her eating disorder hidden made her ill.
"It's a classic, stupid thing to say, but the secrets make you sick," de Rossi said. "I had to come out as having eating disorders and only by doing that could I really, truly say that I'm fully recovered."
De Rossi, 37, promoting her memoir at an Upper East Side Barnes & Noble over the weekend, said she battled anorexia from the start of her career as a model at age 12 until the time she played Nell Porter on "Ally McBeal" in 1998.
"I became aware, by the end of the book, that what I was really talking about wasn't my eating disorder and it wasn't my sexuality, it was this struggle for self acceptance and to be able to just feel comfortable in my own skin," de Rossi said of her tome "Unbearable Lightness."
De Rossi, who came out in 2005, has credited wife Ellen DeGeneres with helping her come to terms with her identity and said Friday night she found that writing the book to be cathartic.
"It sounds very selfish in a way, but I really wrote this book for myself," de Rossi said. "I wrote it for my teenage self. I wrote it thinking that it was the book I wished I could've had access to when I was suffering so deeply from the disorder and struggling with my sexuality."
She added, "When I first realized that what I was writing was going to be called a memoir, I thought, I'm only 37. It just sounded so grandiose … Then I thought, I'm not going to write about the events that happened in my life, I'm going to talk about the events that happened in my head."