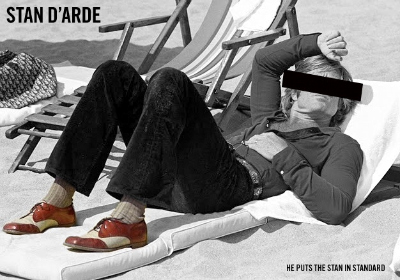 Niteside got a moment with the gentleman who has been with The Standard since the uber chic chain started in Hollywood and opened locations in Miami, Downtown LA and New York. His name is Stan D'Arde. Niteside chatted with Stan -- whose true identity as The Standard's cultural attaché of sorts will remain a mystery -- about what it takes to befriend him, what a members-only Boom Boom Room might include and how belting beloved hits from the 80s in line for Le Bain does you no favors.

Who is Mr. Stan D'Arde? Stan D'Arde is The Standard hotels personified. Enigmatic. Ethereal. At the forefront of style and taste. To know him is to stand in awe. Yes. Narcissism is a favorite trait of mine.

Do you have business cards? If yes, how does your title read? What is you job description? I don't keep a business card. If you know me, you know where to find me. If you've recently met me, you know I'll always be around. My title, one could say, is SVP of Culture & Lifestyle … a boulevardier of sorts. What I do at work daily is to make sure all the friends of the hotels are taken care of. I also taste the martinis all day making sure they are suitable for consumption by the masses.

What is your itinerary this week? My spontaneity precedes me. I don't keep an itinerary. I do what I do when I want to do it. I am bound by no one and nothing.
What's your favorite Standard Hotel? Be honest. I can't have a favorite. ... They're like my children. I could never pick amongst them. As you most probably know, each hotel is special in its own way. The Standard, Downtown LA, with its burgeoning art scene and incredible rooftop, is the intellectual one of the family. The Standard, Hollywood, and the music mecca that it has become, is the original, older sibling. The Miami Standard with its spa and wellness program is the zen one of the group, and The Standard New York, well, she's our baby. She's the newest one to the family and right now, the one getting the most attention. But there's no jealousy cuz we're a family.

To help us spot you next time, depict a typical wardrobe. My wardrobe changes daily. The looks are never the same. Today, I'm wearing the chicness that is Yigal Azrouël, but yesterday, it was mostly an understated look by Hermés. The day before that, it was minimalist Calvin Klein Collection by Italo Zucchelli. I like simplicity, basic colors and light accents of texture and print.

What does it take to befriend Stan D'Arde on Twitter? All it takes is visiting my Twitter page and clicking follow. Twitter.com/StanDarde. It's the only way to get any information about me or any of the hotels 24 hours a day. I'm an equal opportunity Stan.

Twitter-ers that you'll always reply to, no matter how many glasses of champagne you've had or how pretty the company. I always respond to all my fans. It's very important to me to show others the respect and love that they show me. I'm not an elitist. It's always a party chez moi and everyone is always invited.

Recommend your favorite drink at The Standard Grill. My favorite drink is The Penny Drop. It's a deliciously sweet concoction made of ginger beer, ginger syrup, fresh lime juice and vodka, topped with a piece of candied ginger and served in a copper mug. Don't tell anyone, but I usually substitute the vodka with tequila. Shhhh.

What is the craziest night (that you're allowed to recount) you've experienced at the Boom Boom Room? Every night is a night to remember, but unfortunately, these lips never sink ships, so you'll have to make it up to the top to find out what actually happens in the inner sanctum!

What's the craziest thing that someone has done to get into the Boom Boom Room? I wouldn't know the answer to this as I spend most of my time in the room itself and not 18 floors below at the gateway to heaven. But in all honestly, we are by
invitation only, so no crazy thing will actually get you in ... but I'm sure the door men have a good time watching people try.

If the Boom Boom Room ever went "members only" what would a membership include? Right now, Stan D'Arde's acquaintance is the only guaranteed benefit if we ever decide to privatize.

You have the Quiksilver swimsuit vending machines. If someone is in desperate need of a swimsuit will you spot them? Or will they be forced to swim sans? I've always had a bacchanalian flare for debauchery. While my preferences lie in natation nue, I would suggest our guests whip out their black cards and pick up a swimsuit. They are too chic not to own one.

What's the best night to be at Le Bain?
Every night that it's open, bien sur!

What's a sure fire way to not get into Le Bain? By walking down 13th Street en route to the door while skipping with your friends and singing "Oh, Mickey, you're so fine, you're so fine you blow my mind! Hey, Mickey!" I've seen it happen.

Are there any new developments coming up for The Standard that New York can look forward to? We have a few surprises up our designer sleeves, but again, when the time is right, we're sure you'll hear about it.

Does Stan D'Arde go anywhere but The Standard? If so, where can we catch you? I love The Standards, don't get me wrong, but even Stan needs some time away. I like going to Los Angeles a lot. I keep a house there. When in town, you can find me lunching in the garden at the Chateau Marmont when I'm not at the other properties. During the summer weekends in New York, you can find me at Sunset Beach on Shelter Island or in my next favorite little hamlet of Brookhaven. It's quaint there. I keep a house and a boat with some friends. When I really want to get away from it all, I'm usually in the south of France sipping on Bandol rosé and nibbling crudités … Les Hauts de Villefrance Sur Mer, Beaulieu, Cap Ferrat, etc. You know … the usual.

If I drop your name at the door, will I get VIP treatment? Depends at which door you're dropping my name and for what treatment you're asking. We always treat everyone like a VIP, but if you're showing up at our door, it's most probable that I've already let them know you're coming.