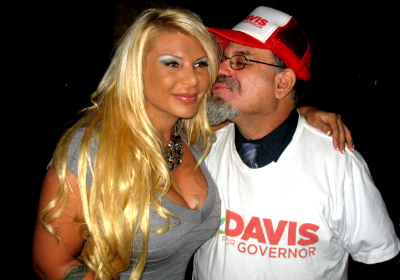 A porn star, a drug dealer's son, and a gubernatorial candidate walked into a bar. No, it's not a joke. It was Kristin Davis' election night party at Taj Lounge.
Those were just some of the guests that showed up to the atypical election night soiree hosted by Davis, the former madam, pro-gay-marriage, pro-pot-legalization, pro-prostitution-legalization, ex-Rikers libertarian running for governor with a party she helped found, the Anti-Prohibition party.
"No matter if the press calls me a hooker, or a whore, or whatever they call me, I'm going to keep fighting," said the self-proclaimed Manhattan Madam, who notoriously spent almost four months in jail for allegedly being Eliot Spitzer's madam.
"Nobody is going to fight harder in New York than me because I have nothing to lose."
While suits and ties filled up the Hilton and Sheraton hotels for the major Republican and Democrats' parties, Davis relatively small group of fans were barely paying attention to the screen broadcasting CNN's election coverage in the dimly lit Flatiron lounge – after her $80,000 campaign, Davis barely scored 1 percent in votes.
Roger Stone, her pro bono campaign strategist who's worked up clout consulting former Presidents Nixon, Reagan, and Bush, said the point of the run was to get the ideas across because winning was so unlikely.
"A candidate with celebrity can get public attention," said the pin-striped-suit-wearing Republican operative who has a tattoo of Nixon's face on his back.
"If she was a school teacher, nobody would be here tonight. She'd have no public attention. I think she used her notoriety for a noble cause."
Stone is a notorious character in his own right. The politico sipped on a vodka martini with olives (that and beer is "all I drink," he said) and explained the tattoo he got in California three years ago. "Took four hours and it was very painful," said Stone, who said he admires Nixon for his tenacity but is more of a "Goldwater Republican."
He's not a very big fan of Client 9's new show on CNN, either, saying it "is as exciting as dying your Easter eggs white. What gives him the moral authority to speak on any subject?"
Although he calls Spitzer a criminal, the Stone believes strongly in legalizing prostitution because "the way to drive sex-traffickers out of the business is to de-criminalize it."
The modest get-together at Taj included Davis' Lieutenant Governor, lawyer Tanya Gendelman, and her campaign manager, the 27-year-old fedora wearing Andrew Miller, who has skulls and bones on his business card.
Other guests included "Penthouse" magazine promotions manager Lainie Speiser, porn star Brittany Andrews and Pablo Escobar, Jr., son of alleged Columbian drug lord with the same name.
"She's the underdog, that's what I support," said Escobar.
There were a number of "underdogs" in this year's midterm elections, although Davis promises she stands for the most out of all of them.
The candidate, wearing a French Connection dress and Louboutin heels was none too impressed with Jimmy McMillan of "The Rent is 2 Damn High" party.
Davis recounted he was wearing a "whimsy flight suit," and "he came up to me and said 'I'm a big fan, I'm a big fan,'" and ran off.
Noting that it's been reported that the "Rent" candidate doesn't even pay his own rent, Davis dismissed him: "He's not even behind anything."