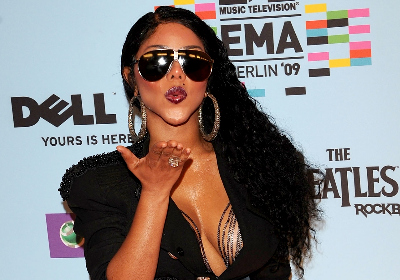 Lil' Kim, the oft-scantily clad pint-sized rapper who is launching her own fashion line, said last night she takes designer cues from the likes of Marc Jacobs and Donatello Versace.
"My inspiration is definitely all of my designer friends like Marc Jacobs and Donatello Versace," she told Niteside during the grand opening of Harlem-based luxury boutique La Scala last night. "Those are my friends. I watched them prepare for shows, and I see [what] they [went] through. I dedicate [my sneak peek] to them."
The rapper, decked out in a DSquared2 floral print number paired with a grey leather jacket and studded black patent heels, said she is debuting her own clothing line, 24/7-Star: Goddess Collection, in 2011.
"I'm very excited," she said. "It's being received very well."
Kim was joined by rappers Mims and Jim Jonez, Mie of Lil' B, comedian Paul Mooney, "The Real Housewives of New Jersey" starlet Ashley Holmes, "The Spin Crowd" star Jonathan Cheban and celeb publicist Lizzie Grubman. La Scala, touted to be the first luxe boutique above 125th Street, will carry brands such as Prada, Louboutin, Gucci and Ferragamo.
And don't expect Kim to shelve her music as she pursues a career designing duds.
"I'm in the studio. I'm working all the time. I never stop working," she told Niteside. "I'm focusing on dropping hot singles."