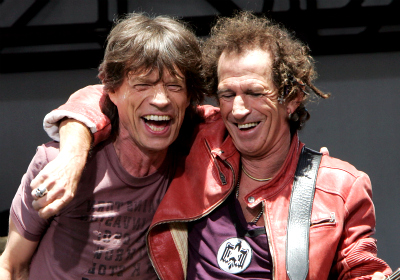 Rolling Stones legend Keith Richards scaled back his criticism of front man Mick Jagger over the weekend and even hinted that the rockers may get together and record once again.
"We were amazed we had found each other," the guitarist said of Jagger Friday night during an interview at the New York Public Library to promote his autobiography "Life."

Richards, whose rocky relationship with Jagger is well-known, was questioned by music critic Anthony DeCurtis at the library's 42nd St. building in an event that sold out as fast as a Stones' concert -- a record 43 seconds, said program director Paul Holdengraber.
When comparing the Stones with the Beatles, he said, "It didn't really matter whether Paul or John or George was singing the lead. That was interchangeable. In the Stones, we had one front man. We had the best."
DeCurtis asked if there was any chance the old gang could get together and record once again, Richards ended the interview with a big tease: "I think there will be something next year," Richards said, which was met with a roaring applause from the audience.

Tension between Richards and Jagger did shine through when the new author talked about keeping his band leader's ego in check.

"I have to make sure he is supported in the room, whatever he does," the guitarist said. "The lead singer, the front man, needs to feel that he has a band behind him. At the same time the band may not feel that way about the lead singer."

The 66-year-old singer was shy about drug use when DeCurtis brought it up.

"It's all back stage and a little secret," said the rocker, notorious for his drug use in his younger days. Richards then abruptly went of stage to "take a break." When he returned a minute later, he commented: "I don't really say too much about drugs, because I could give a lecture all night."

He added, "It's been 30 years since I've been a junkie but I still carry that ball and chain."

Among the 400 to 500 who attended were "Law and Order"'s Richard Belzer as well as Richards' two daughters (now in their 20s). The lucky people who happened to snag spots each got a complementary copy of the memoir.

"At this point it would be difficult to separate myself from the Stones," Richards said, reflecting on his life and his image.