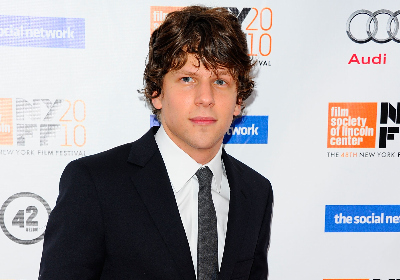 Actor Jesse Eisenberg bristled at the sight of the paparazzi-packed red carpet during the star-studded world premiere of the "The Social Network," the highly anticipated Facebook flick in which he stars, and said he isn't a fan of the social networking site.
The camera-shy 27-year-old actor, who plays the role of Facebook founder Mark Zuckerberg, confessed to Niteside during the film's premiere at Lincoln Center's Alice Tully Hall last Friday that he'd rather hide out than be the center of attention.
"I would like nothing more than to stay in my stall shower and never leave," he said as flashbulbs popped. "These events are an honor, but, as you can imagine, it's overwhelming."
And after being asked the main question of the evening -- Are you on Facebook? -- Eisenberg answered with a resounding, "No."
He added, "I have plenty of friends who are on Facebook. But I have them from other places."
At the mention of possible Oscar buzz, Eisenberg told Niteside: "It's just nice to be a part of something that people like and I can feel proud of."