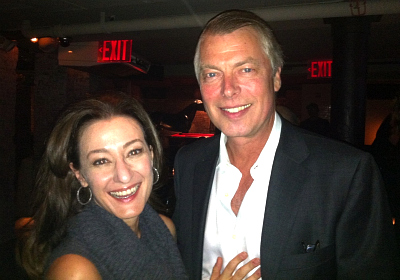 Author and journalist Paula Froelich was one of many prominent New Yorkers who came to bid adieu to the New York Post's longtime Page Six editor Richard Johnson last night.
During the festivities at 675 Bar in the Meatpacking District, the ex-Post gossip guru shared some humorous anecdotes about her former colleague, who is leaving the tabloid after nearly 25 years at the paper.
"I remember Richard once at a late night summer party," Froelich said. "He was going down a twisty slide in his boxers, with his legs in the air, and screaming like a 5-year-old child."
The globe-trotting writer, whose first novel "Mercury in Retrograde" became a best-seller, said she's gearing up for the next stage of her career.
"I just got back from Nairobi, and I did get pulled up onstage by maroon commandos. I thought, 'At age 36 I still got it!'"
It's true - she does.
"I'm talking to a bunch of people for TV projects, and I'm also traveling a lot," she said. Next up for the world traveler? Indochina. Froelich even has some advice for those who want the life of a jet-setting scribe.
"I think in general, people need to have some sort of intellectual curiosity," she said, adding: "And to never take 'No' for an answer."
Niteside contributor Corynne Steindler once worked with Johnson and Froelich at Page Six but was definitely not at the twisty slide party.