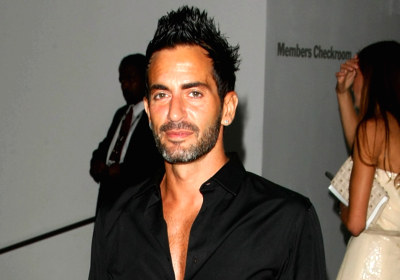 Hunky designer Marc Jacobs can pump some serious iron, according to pal and gym guru David Barton.
"He's got a great body and he's in great shape," the beefy body builder told Niteside at the 10th Annual Toy Drive in Astor Place Friday night. "You can ask him to take off his shirt and he looks fantastic. He's really gotten himself looking phenomenal."
But Jacobs, sporting a black sweater and his signature kilt, said he wasn't going to take his shirt off any time in the near future.
"Maybe I used to [look in shape], I don't right now, I've lost a lot of weight. I had a shoulder operation and lost some weight, but I'm sure I will again," said the 46-year-old designer, whose chiseled abs got attention in Harper's Bazaar over the summer.
Jacobs, Calvin Klein and Barton hosted the toy drive together at the Astor Place gym, a club-type venue conducive to hosting parties. Designer Narciso Rodriguez, shutterbug Steven Klein and Barton's recent ex, eccentric nightlife promoter Susanne Bartsch, also hosted the holiday soiree.
The event attracted a lace- and black-bedecked crowd that mingled between the treadmills and weight machines. Designer and socialite Richie Rich, actor Patrick Heusinger and even 14-year-old Abigail Breslin all stopped by.
Jacobs has hosted the event with Barton several times, while Klein decided to pitch in this year beacuse "he was in town and wanted to help out," Barton said. "It feels great," added Barton, who has a heart underneath all that muscle. "I love seeing people come in with their toys."
While Madonna, Bette Midler and Kelly Bensimon did not make the party, they stopped by to drop off toys during the day, said an event spokeswoman.