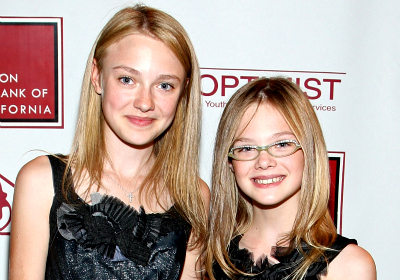 Starlet Dakota Fanning's younger sister said she hopes to share the silver screen with her older sibling.
"It would be really cool -- I hope that we can one day!" bubbly 12-year-old Elle Fanning told Niteside at a special New York screening of "Somewhere" over the weekend.
The younger Fanning said her 16-year-old big sis has been supportive of her acting career, which has included playing a younger version of Dakota in "I Am Sam."
"She's always been really supportive of me and really proud," Elle said. "She always comes and visit me on my sets, and I always go and visit her on hers."
Elle also revealed a venerated Christmas tradition in the Fanning household in which she gives each family an ornament signifying something special that happened to them that year: "Last year, my sister did 'The Runaways,' so I gave her a rock star [ornament] with a microphone on it," she said.
Also strutting their stuff on the red carpet at the "Somewhere" on Sunday was co-star Stephen Dorff, director Sofia Coppola, producer Roman Coppola, Kirsten Dunst, James Franco, Anna Sui, Molly Shannon and Parker Posey.