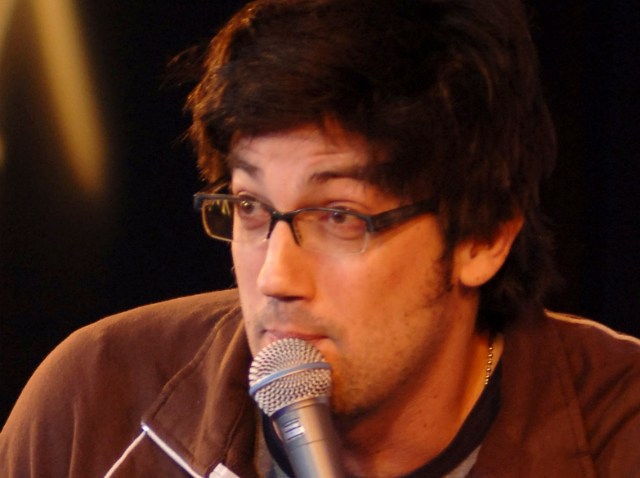 Before Leo Allen hosted "Whiplash" at the Upright Citizen's Brigade, the comedian was once a guide on a New York City tour bus -- which, believe it or not, has its similarities to stand-up comedy.
"It was performative, in a way," quipped the writer and actor backstage following the show Monday night. "You're performing for hours for people who were initially excited, then get angry. So that was good practice."
In reality, people were far from angry after the side-splitting 1-1/2 hours of comedy, which Allen has been hosting at the famous New York fixture for almost two years. The 11 p.m. stand-up extravaganza brings New Yorkers laugh-out-loud jokesters free of charge.
When the scruffy, bespectacled funnyman came to New York City from the Pennsylvania countryside in the '90s, he recalled he had "an endless stream of horrible temp jobs," including his job riding the double-decker. While most New Yorkers would be happy if there were a few fewer tourists around town, Allen's duties included making sure that didn't happen.
"It was horrible. You would just be on it for 12 hours and you would just tell people to duck, because they're so high, the street lights [can hit them]. So you have to say, 'Duck!' so the company doesn't get sued."
Those days of traffic-light dodging are long over. Allen won Best Host a the ECNY awards in 2008 and has a writing resume that includes "Saturday Night Live." In last night's roster, he introduced "SNL" writer John Mulaney, Nick Kroll, West Coasters Matt Champagne and Hugh Moore, and British charmers Adam Buxton and Simon Amstell.
At the end of the night, Allen looked like he was about to fall over in exhaustion. But he was happy to talk about "Whiplash."
"I like it because I can try to do new stuff every week, and I like to talk to the audience and sort of feel what's going on. We always have great acts so it's fun for me to watch it."