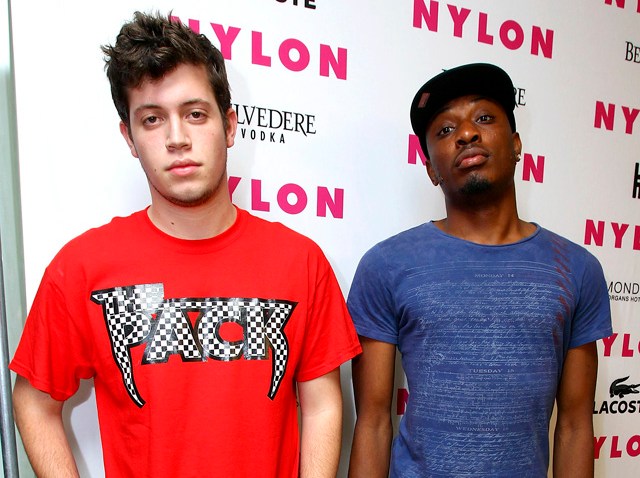 When Chiddy says "put your hands up in the air," you put your hands up in the air.
That's exactly what happened when alternative hip hop sensation took over the stage at the Highline Ballroom in Chelsea last night, and bouncing arms did not go back down for the rest of the show. The up-and-coming Philly-based duo sold out the venue for their first headliner in New York -- and it probably won't be the last time.

Mixing catchy hip hop beats and witty lyrics with electronica and rock, freestyle extraordinaire Chiddy and producer Noah Beresin, a.k.a. Xaphoon Jones (apparently Noah wasn't cool enough?), are bringing their own flavor to the music scene. "The Opposite of Adults," which mixes beats with MGMT's song "Kids," is their most popular hit.
Chiddy Bang's live show comes with something extra special. At one point, Xaphoon Jones took random words from the audience and Chiddy improvised a rap to incorporate all of them. Get a large group of 20-somethings and you're bound to get a random list; terms included "illegal immigration," "teddy bears" and "New Jersey" (which got both boos and hisses from New Yorkers).
Friend and rapper Cheesburger wrote each term on a paper plate and threw them into the audience as Chiddy spit them out. The crowd couldn't stop cheering -- this freestyle moment is no doubt a trademark of their performance.
The two have come a long way since meeting at Drexel College a couple of years ago. Yes, college. Chiddy and Xaphoon can't legally drink but they are almost hip hop stars, if not already. They just signed up with the music label Virgin Records/EMI this past January and their debut album and namesake of their current tour, The Swelly Life, will be released Oct. 12.