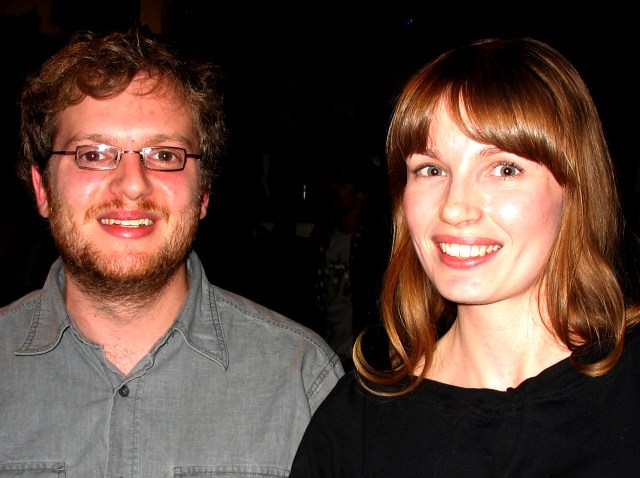 It turns out lit lovers aren't just obsessed with the ink on the pages of their favorite tomes.
Celebrating the release of their new anthology "The Word Made Flesh: Literary Tattoos from Bookworms Worldwide" last night, editors Eva Talmadge and Justin Taylor felt the trend found on Brooklyn stoops and Hollywood red carpets alike was worthy of its own book.
"Now I think it's become much more cool and in to be a hipster librarian or book lover," Talmadge, who has inked upper-left arm, told Niteside.
Talmadge, 29, and Taylor, 28, led the launch party of their anthology at the spacious bookstore powerHouse Arena in DUMBO Wednesday night, hosting a roomful of Downtown bibliophiles who mingled and got tipsy on white wine.
The project began last year when the pair found it interesting that each of their roommates got lit-inspired ink within a few weeks of one another. The two solicited pictures and stories on literary blog HTMLGIANT.com to see what would happen.
The duo said they received as many as 250 photos from different corners of the world, each with a unique story behind them.
"It seems that Kurt Vonnegut is one of the most tattooed authors," said Talmadge, while showing a slide of Bodie Shallenberger of Indiana's upper arm tattoo of the famous gravestone: "Everything was beautiful and nothing hurt." Beckett is also a popular one.
Talmadge revealed two rectangle tattoos she got with agent Brandi Bowles for the book as "a publicity stunt, to get a tattoo on camera and then create a book trailer." They represent a window and a doorway, an allusion to a poem by Russian avant-garde poet Daniil Kharms.
Taylor is still tattoo-less because he hasn't found "the exact right thing yet."
Among fleshed lines from Ulysses and stanzas from E.E. Cummings, author Jonathan Lethem also has a page in the anthology, showing off his "Ubik" spray can (from the cover of the sci-fi novel) inked on his left bicep.
One of William Clifford's seven literary tattoos includes two lines from the novel "Success" by Martis Amis: "I want to shiver and sob. I look up. Something is coming." At the party, the Brooklynite detailed the charming story in which he obtained his first copy of the novel from a used book vendor.
"It had blood on it," Clifford said, "so I said, 'Can I get this for a little cheaper?' So he sold it to me for a little cheaper." Three dollars, to be exact.
Follow us on Twitter @nitesideny.