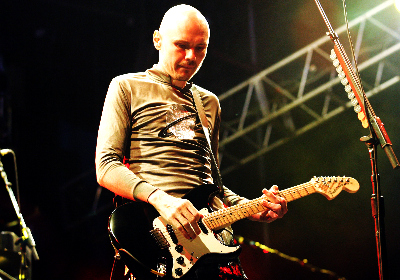 Smashing Pumpkins frontman Billy Corgan had one message for long-time fans last night: I'm sorry.
The indie rocker issued the apology for reasons that remained unclear Monday night during a sold-out performance at Spin magazine's 25th anniversary concert at Terminal 5.
"For the old-school fans, sorry for what I've done to you," lamented the crooner, who headlined the event.
"We love you guys. Thank you so much."
Last night served as the kick-off for Spin Magazine's week-long concert series with headlining bands The Smashing Pumpkins, The Flaming Lips, The Black Keys, The National, and Spiritualized.
Niteside caught up with magazine editor-in-chief Doug Brod at a reception for the show on the Terminal 5 rooftop.

"We had a lot of bands that we hoped would be part of this celebration. When you talk about alternative rock of the 90s, they're one of the core bands," Brod said of the Smashing Pumpkins. "We're very thrilled to have them."

Added publisher Malcolm Campbell, "Obviously, it's amazing having them here."

After solid opening performances by Jim Jones Revue and Kill Hannah, the Smashing Pumpkins stormed the stage with an unrelenting set that lasted more than two hours. During the set Billy, who recently collapsed on stage in South Florida, treated the audience to a little impromptu dancing and a lot of on-stage banter.
"I'm your little rock and roll puppet," Corgan cooed to the crowed.
He then took the opportunity to get another jab into his never-ending rivalry with the indie rock group Pavement: "Look, it's me as a puppet. Oh, look! He's killing the guy from Pavement," he quipped.

After the American Express Zync-sponsored performance VIPs like Cory Kennedy, Jessica Stam and Christian Siriano moved the party to Hudson Bar at the chic Hudson Hotel. Also spotted enjoying the Amstel Light open bar was Bon Jovi guitarist Richie Sambora.