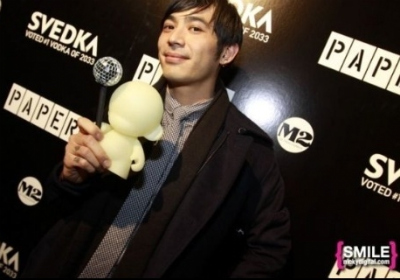 If you spend your nights gallivanting around the downtown nightlife scene, you've probably been in the same room as Andy Shaw -- the promotional master of command to one of New York's longest running weekly parties, TRASH!. After landing the electro/new wave party as his first client to the now well known Shaw Promotion, Andy has stayed committed to keeping a spark of rock 'n roll alive in the downtown scene.
Named Party Promoter of the Year by Paper Magazine two years in a row, we talked to Andy to see how he's looking to secure his win in 2010 -- a promotional robot street team maybe?

How and why did you first get involved with promoting? In 2001, I went on a motorcycle cross-country trip to find a direction and seek unknown opportunities. I grew up in NYC and was getting bored of the scene and wanted to do discover my potentials around the rest of the country. Upon arriving San Diego, Calif., I came across an opportunity to work for a street promotion company and quickly realized that it may just be what I was looking for. A chance to combine my hard working ethics and my outgoing personality to create something new and fresh, and of course working for myself seemed to be the best situation. I did not want to work for anyone else or be in nine-to-five environments, so in 2003, Shaw Promotion was born.
Tell me a little bit about your involvement with TRASH! -- how do you feel about its long run? Why do you think it's such a success? Trash is family, simply said. I love DJ Jess and I'm sure he likes me quite a bit too. When I started Shaw Promotion in New York City, I was struggling to find work and Jess who was already a friend at that time asked me to promote for his new party Trash! So I gave it a shot and that was my door into behind the scene of the New York nightlife. The reason for its long running and success is DJ Jess. He is fun, creative, passionate and he's got a great crew of people behind him such as Twig the Wonderkid & Alex Malfunction. Trash is Jess's baby and he takes a good care of it.
How has Shaw Promotions changed since it's inception? Running Shaw Promotion is nothing short of a great experience. I got to meet and work with all different kind of interesting people and also learn a lot about myself. We are working on bigger jobs and we are still very busy, but the big difference is that I now understand how to manage my schedule so I can make the most out of enjoying my daily life. It changed me.
Do you have a crazy nightlife story you're dying to tell? Any notable nightlife encounters (celebs, etc)? I've seen everything from a drunk girl almost getting killed on her scooter outside of Luke & Leroy's to people having sex in the bathroom. ... NYC is definitely known for it's scandalous nightlife behavior, and I've been there to witness much of it of it.
What are some parties/venues/bars that you frequent, that aren't necessarily ones you represent? I attend parties we represent as much as I can, and if there's a party I like I will try to see how I can get involved. I certainly do not go out as much as I used to. I live on the border of Greenpoint and Williamsburg, Brooklyn, which has many cool bars and venues so close together. The new Knitting Factory is a great space, The Wood and Kingdom is cute, Charleston is a cheap bar with free pizza and the perfect outdoor people-watching spot. When I'm not at parties or working I just want to sit at a dog friendly bar and have some beers with friends or sit in my backyard.
You were voted Best Nightlife Promoter by Paper Magazine two years in a row now. How are you looking to secure your spot at the top for 2010? I was pretty surprised winning the first award and really didn't expect the second, so to win again ... would be just shocking. I don't go out as much as I use to; I'm sort of just doing my thing and trying to make the most out not only my job, but life in New York. Shaw Promotion is very much an extension of myself. My approach is honest and I always do my best. I feel humble and grateful to be recognized in such a crazy city, especially one that I love so much.
If you had to throw a party for yourself, let's say for a birthday or something, who would you book and why? I would book all my close friends. For my last birthday, I had a gathering at my house with just my close friends from childhood, school, nightlife and even clients and staff. People brought homemade cakes and we set up this real fun chocolate fondue fountain.

I wouldn't change a thing. I also threw my girlfriend a birthday party at Brooklyn Bowl last winter and it was a really exciting time close to home. No need for big name acts or glamorous hosts, just good friends celebrating life.
What kind of venue and/or party do you think NYC is missing? New York City is one of the coolest places to party. You can go anywhere from a dance party on a revived sunken ship to an outdoor yard party on the Gowanus Canal. The only thing I really must say is that I miss is the Motherf----- party. It was huge and it gave everyone a chance to dress outrageous and really have fun with it. But more importantly, it got people from all different genres and scenes all dancing side by side. I wish to see that again in NYC.
Where do you see yourself and Shaw Promotions in 10 years? I always say that I will be the first with a robotic street team.