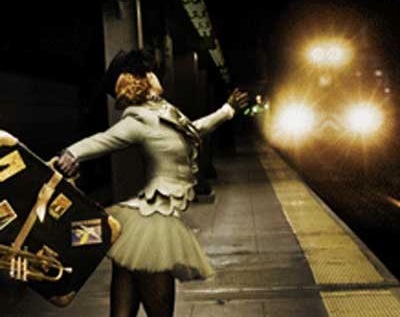 The American Ballet Theater has just wrapped up its surprisingly unglittery Fall repertory, and the New York City Ballet is busy putting the finishing touches on the Sugar Plum Fairies before mobs of little girls in ringlets invade Lincoln Center for the Nutcracker. Into the seeming dance void that is late October, three companies are quietly doing something totally different.
"Ballet doesn't always have to be a big, puffy, pink, glittery nightmare," said Christopher Wheeldon, the former choreographer of New York City Ballet, when he started his dance company Morphoses/The Wheeldon Company in 2007. In its tender third season, Morphoses spins its way across the Atlantic after a successful Fall debut in London. They will be performing a centennial tribute to the Ballet Russes, the company that gave birth to Balanchine, at the City Center Thursday through Sunday. Think black-and-white unitards rather than layers of pink tulle.

Garth Fagan, the Jamaican choreographer most famous for "The Lion King" (for which he won a Tony), is bringing his more seasoned modern dance troupe -- this is their fourth decade -- (the dancers have changed over the years though, don't worry) to the Joyce Theater for six days of high-energy pointe shoe and tutu liberation.

Down at Joyce's SOHO theater, and just in time for Halloween, Riedel Dance Theater is putting on a show inspired by Edward Gorey's illustrated series The Ghastlycrumb Tinies, in which adorable children die in macabre ways ("K is for Kate who was struck with an ax"). Ukrainian Eggs: Terrible Tales of Tragedy and AlleGorey is sinister, yes, but Artistic Director Jonathon Riedel believes it is also hopeful and innocent. After all, "getting impaled by an umbrella is kind of fun," says one dancer.
Copyright FREEL - NBC Local Media