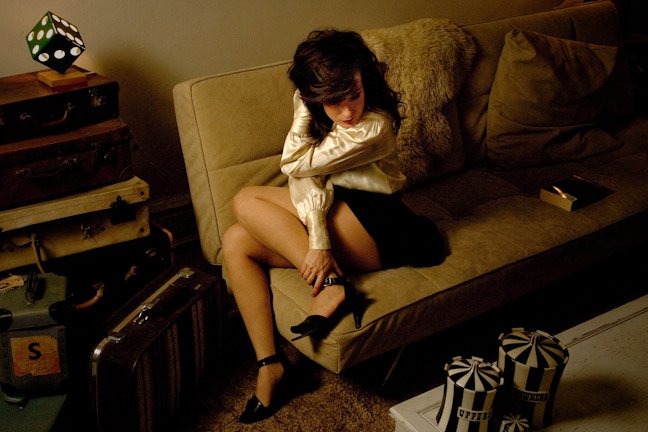 We mentioned how excited we were for this show earlier this week, but we thought we'd give a little space to one of our favorite local bands and the headliner of tonight's Knitting Factory show: Class Actress.

Singer-songwriter Elizabeth Harper initially pursued a career as an actress in Los Angeles, but moved to Brooklyn in the early 2000s to switch gears and begin focusing on music. She performed as Elizabeth Harper and the Matinee, producing some vaguely catchy, non-threatening indie-pop that, despite being fairly pleasing to the ear, wasn't exactly going to set the world (or dance floors, for that matter) on fire.

But in 2008, she heard a remix of one of her songs by producer/keyboardist/general knob twiddler Mark Richardson and decided that she preferred his Depeche Mode-influenced electronic production over her more classically indie-rock sound. A little while after the duo began the process of switching Harper's material over to the new format, producer Scott Rosenthal joined, and Class Actress the trio was born.
Journal of Ardency, their first EP, represents more of a guitar-y middle ground between Depeche Mode, New Order, and the more polished, synth-based approach of their second LP Rapprocher, but the constant has always been Harper's beguiling voice and catchy melodies.

There's a cynical way of looking at the transformation of Harper's music: right around 2008, pop music on the whole started a sea change towards the dance-y electronic music that currently dominates a lot of the landscape (think Lady Gaga and her host of coat-hangers-on and imitators), and Harper astutely caught on and joined the rush to, as LCD Soundsystem so memorably put it, "sell your guitars and buy turntables."
In the wake of Lizzy Grant's transformation into Lana Del Rey (and subsequent world domination), there are large swaths of music fans that lambast style changes like this as opportunistic in an attempt to invalidate them.

And that's one way of looking at Harper's path. But watching her onstage, there's such palpable joy in her performance that it's hard to dismiss her as merely opportunistic: it seems like she just really loved jumping around to early Madonna records as a kid.
And frankly, when the music is this good, who cares? Richardson and Rosenthal are brilliant producers: Class Actress's Rapprocher should be issued as the new benchmark to any band experimenting with synthesizers -- if you can't get them to sound this good, this pillowy and embracing, don't bother. And though Harper doesn't have the kind of barnstorming voice of, say, Florence Welch, it's hardly a detriment to the group's sound -- a larger, more insistent voice would shatter the group's hypnotic sense of dynamics.

Some of our personal favorites from the group: "Let Me Take You Out," "Keep You," and "Weekend."
Class Actress hits at 12:30 a.m. at the Knitting Factory in Brooklyn, supported by Zambri, Air Waves, Beach Day, and Bleeding Rainbow. Be there!