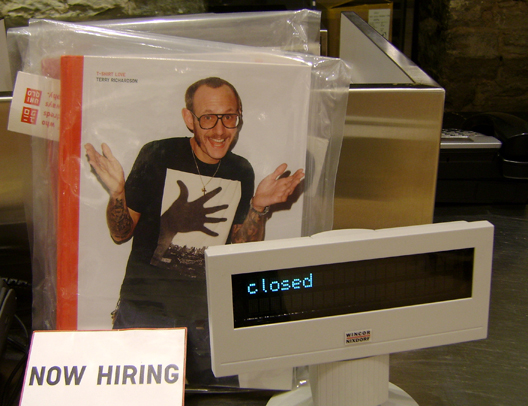 In case you don't vividly remember the Terry Richardson-shot ad campaign for Uniqlo's UT artist line of T-shirts, it did not include the annoying one of Chloe Sevigny standing off-balance. Instead it featured typical Terry fare of point-blank shots of random party people from MySpace, donning what else but Uniqlo T-shirts.
Way back in June of last year, the entire ad campaign was released in book form; called T-shirt Love By Terry Richardson, it retailed at Uniqlos for the hefty price of $49.50 for about thirty pages.
Now more than a year later, we only recently noticed the book because the Uniqlo in Soho has stacks of them leftover and on sale. For a more reasonable $19.99, they are trying to unload them onto anyone and everyone. This follows a trend with his weighty monograph, Terryworld, which is periodically to be found in the bargain stacks at bookstores.
· T-Shirt Love by Terry Richardson [HighSnobiety]For more stories from Racked, go to racked.com.
Copyright RACKN