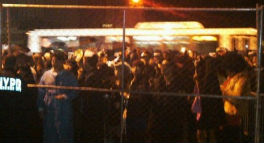 It's been ten weeks since the Halloween disaster at the officially closed Tavern on the Green.
The promoters promised refunds to their aggrieved customers within four weeks of submitting a refund request, but it's become evident that thousands of customers who had their Halloween ruined are not going to be refunded any portion of their money.
That's upwards of 5,000 people who spent anywhere from $60 to $130 a ticket for some fun who were basically robbed.
Adding insult to injury, it seems the same promoters who worked that Tavern event continue to shamelessly bombard their email lists with invitations to other events without a whisper of a freebie.
These actions simply reinforce promoters position at the bottom of the nightclub hierarchy.
Copyright EATER