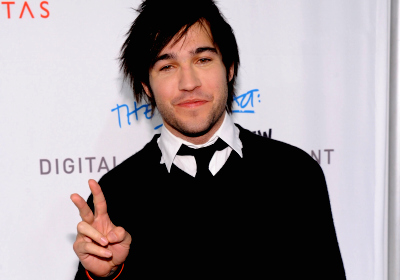 Despite being on a hiatus, the members of Fall Out Boy have been doing a great job at keeping themselves occupied. The most successful of them being bassist Pete Wentz, who is busy with his family, his Clandestine Industries clothing line and a production company and his Angels & Kings bars, one of which is in the East Village.
Somehow, with his intensely full itinerary, Wentz still find time to be an Internet presence -- mostly through his Twitter account, which boasts more than 2,000,000 followers. That's part of the reason he spoke last week at the Third Annual Digital Content NewFront.

Niteside grabbed a quick moment with the young entrepreneur during his time in New York for Internet Week to talk about his favorite website, his son on Twitter and honing his Buck Hunter skills.
What website do you spend the most time on? I think people believe that I spend every second of every day on Twitter. I love the site but it's not true, I probably spend much more time on CNN.com. I'm kind of a news junkie.
How many followers would you like to have on Twitter?
I want a billion. I want to be a billionaire. (Starts singing
Travis McCoy
's "Billionaire.")
How much do you think about what you put on Twitter? Obviously, I have so many people who follow I've started to be more cautious about what I put on there. I try to put more news on there because that's what I'm reading most.
How long do you think we're going to see your son Bronx Mowgli on Twitter? Never. I don't think I'm going to want him to be on Twitter. Of course, right now I'm more concerned with keeping his fingers out of sockets and keeping him from putting his fork in his eye.
Other than your laptop what technology do you spend a lot of time on? My wife got me the arcade game of Buck Hunter that they have in bars for my birthday. I've been spending a lot of time on that. I can turn off the sound and play all night if I want.
Are you any good? I'm actually pretty bad. I shoot a lot of cows, which in the game is a bad thing. I would never shoot anything in real life so PETA can stop writing me that letter right now.
NBCNewYork.com is a partner of Internet Week New York.