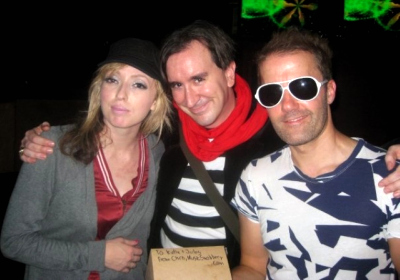 Chris, the first-name-only (dude's gotta protect his day job, folks) blogger behind taste-making indie music blog Music Snobbery threw the latest installment in his seasonal series at Joe's Pub last night, choosing the muggy summer night to showcase the intoxicating talents of Kelli Scarr and Natureboy. Before things got underway, Niteside caught up with the die-hard-fan-cum-concert-curator about summertime venues, guilty pleasures and the Gorillaz.
When did you discover Kelli Scarr? Well, Kelli was in a band called Salt and Samovar. They played my first-ever show at Maxwell's in about 2008. I got Moby to headline that show, and that's how Kelli came in contact with with Moby to launch her solo career. Kelli sang on the bald, bespectacled one's 2009 release, "Wait For Me." A lot of singer songwriters play in a persona, but that's not Kelli -- it's complete honesty, and that's what I find refreshing about her.
Do you throw these showcases frequently? I try to do it seasonally -- four times a year at Joe's, once a year at Maxwell's for the anniversary of the blog. I do two shows for Northside, the Brooklyn festival, and I do one for CMJ at Living Room.
Why is Joe's Pub your favorite venue? I think its the best sounding small venue in Manhattan. There's a professional sound person there. It's also a classy venue without being hoity-toity, and it's also a very comfortable space. There's not many distractions to it.
New York Magazine dubbed Brooklyn the country's Indie Rock capital last year. Would you agree? Actually, I think the most exciting music in the world is coming from London. But in terms of American music, I would say Brooklyn. I would say what happens is that bands tend to go to Brooklyn. You have a lot of bands that only have one member that actually lives in Brooklyn. Like The National -- they're sort of spread out all over the place, but claim Brooklyn. I guess because their lead singer lives there. It's sort of a validation to claim residence in Brooklyn.
What's the best place to catch a summer show? I like the programming at South Street Seaport. Not the Drake stuff obviously, but the Friday Night Sets are really cool -- maybe because they are under the radar so you don't have some many people going. That's where I first saw The XX last year, they opened for School of Seven Bells.
Are you an unabashed music snob? Of course! My definition of a music snob is you're really passionate about what you listen to. There's obviously a hint of corporate music sucks and indie music rules, but I think it's more about being passionate and being open to all different genres of music.
Do you own any guilty pleasures? Chris Isaak, "San Francisco Days." He's sort of a rockabilly Elvis type but he's very cool about it. There's a suaveness to that album that I really dig.
As a huge Blur fan, would you say the Gorillaz stack up? Oh, definitely. I think Damon Albarn can pretty much do anything he wants. He's [the U.K.'s] version of David Byrne in that he's a renaissance man. He can do any kind of genre or any kind of platform for his music. And the Gorillaz was just a way for him to access his pop sensibilities and make it as grand and as out there as he wanted. This latest is just another improvement, another notch in his belt.
What's one album you recommend our readers pickup this summer? The Dr. Dog album ["Shame, Shame"] is going to be in the top three for me. It's different while being the same Dr. Dog album. They've embraced a little bit less laid back sound and made it more active.
What bar has your favorite jukebox? The jukebox at Rodeo Bar. I think when you go to a bar you should listen to music you don't usually listen to, and this one has a whole bunch of country and western stuff from the 50s and 60s.