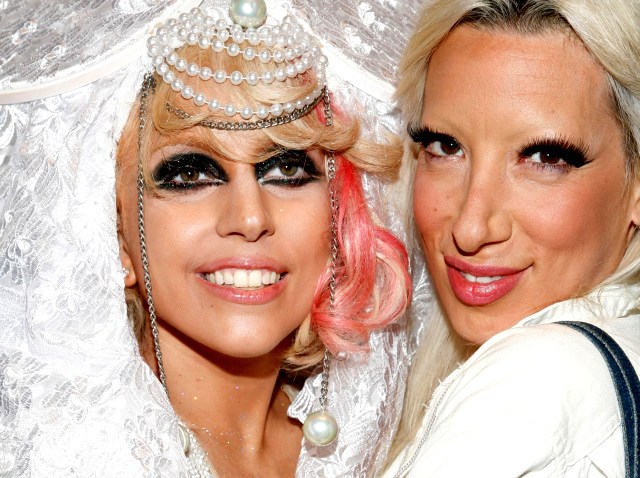 Since she first cut her teeth spinning records on the L.E.S. to paparazzi-caught romps with gal pal Lady Gaga to her most recent, buzzed-about bash at -- of all places -- midtown hotel The Royalton, Lady Starlight has been injecting both rock 'n roll and rock 'n roll-worthy antics into New York's nightlife scene.
Niteside spoke with the Ziggy Stardust-channeling vinyl vixen, getting her take on everything from Georgian period fashion to Rikers Island.

You exclusively spin vinyl. Where do you get your records? Gotta love eBay. ... But my fave place in the city is Strider Records in the West Village. An entire wall is dedicated to 45s!

What's one vinyl gem you've recently picked up? "Epic." Faith No More on 45rpm!

What's the scene like at your Tuesday night party at the Royalton? Perfect.

How did they approach you and were you initially apprehensive about spinning in Midtown? I hooked up with them through my best friend Justin Tranter from the band Semi Precious Weapons, who are now opening for Lady Gaga. I was really excited about the idea from the get go. I loved the concept of mixing all types of people, stockbrokers, rockers, tourists, punks, fashionistas etc., and partying to rock 'n roll.

Anyone famous shown up? Any surprises in the crowd? Jason Wu was there last week. It was so amazing to have the first lady's designer rocking out to Black Sabbath!

What's one New York neighborhood that's due for a nightlife renaissance? Rikers Island.

If you could live in New York during any other decade, what would it be? 1850. Fashion from the Georgian period is the next big thing.

If you had to choose between one fashion accoutrement, leather or spandex, which would it be? I'd rather be naked than wear one without the other.

When you and Gaga get together, what's a typical night on the town like? Just check the tabloids.

What's one overly-requested song you'll never play? What's one record you'll always play? Anything in the top 40. Anything I have in my record box.

If you're not behind the decks, where can we find you? The Russian Tea Room.

What's your favorite rock record of all time? Like, one you'd play from start to finish? Lou Reed. "Metal Machine Music."

What's one New York nightlife trend you're digging on these days? I love that people are dressing up again.

What's one you'd like to see just wither and die? Cocaine.

What was your initial reaction to the steamy photos of you and Gaga that leaked onto the Internet? Ooops.