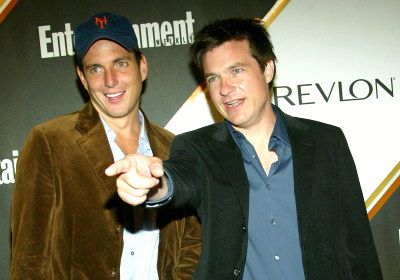 Best known for playing brothers on "Arrested Development," Jason Bateman and Will Arnett recently announced their partnership in an Internet production company called DumbDumb -- a website where the duo plans to create original content that integrates branding and sponsorships into the actual programming.
As Internet Week came to a close, Niteside grabbed a moment with Jason to talk about joining Twitter, how the "Arrested Development" movie is looking, and his cozy working situation with buddy Will Arnett.
Are you on Twitter? I just got on a few months ago. It's not easy. Will has been on a bit longer and he's helping me get the hang of it.
How did you come up with the idea to start an Internet company? It's really just a way for Will and I to make funny content except we don't have to pay for it ourselves.
So your programs incorporate the ads? Are you looking to kill commercials? I would not be okay with that. We're not commercial makers, we're not advertisers. We're not smart enough for that -- hence the name. We're just trying to do funny sketches. Integrating commercials is more about this creative challenge, if we can get the plug in there without stopping the programming for an ad.
Did anybody not like the name DumbDumb? Well Will didn't really like it because he doesn't like to be described that way, but he was the inspiration for it.
Will said he likes the chances of starting the "Arrested Development" movie soon, how are you feeling? It looks good as long as Mitch [Hurwitz] has time to write it. He's going to be busy writing Will's show. The guy can do a lot so hopefully.
What's the difference between working on the web and working in television or film? It's less regulated so you can do a bit more of what you want to do and not worry about it. Ratings and what not, but we're dealing with products so we have to respect their clients and their buyers. If you don't have any rules than the product is undisciplined usually. It's nice to have boundaries. Even children need bumpers on the crib right?
What's your workspace like? Are you guys conquering the Internet world from your kitchens? We have a shared office so we have two desks staring at one another. Once we're done getting lost in each other's eyes we do start talking about ideas. He doesn't like listening to music so much; it distracts him from his thoughts when he looks at me. We get a lot of work done after that.
Sounds like you guys are pretty close, how do you feel about him walking his wife Amy Poehler down the red carpet of the Webbys instead of you?
Listen, if he wants to bring the beard out every once and awhile that's alright by me. We all know who he goes home with.