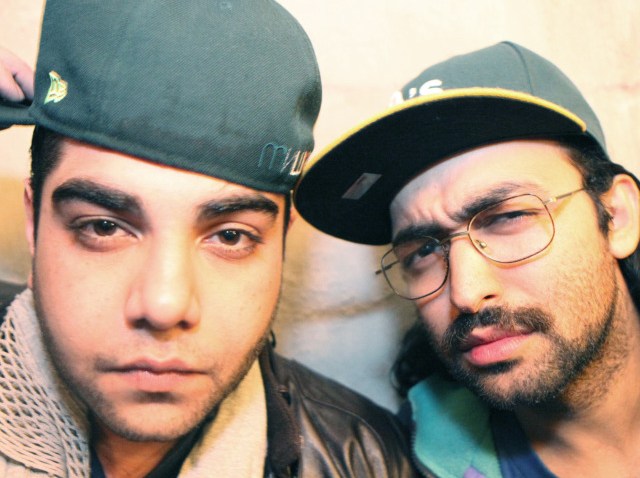 Since breaking onto the scene (and the internetz) with "Combination Pizza Hut and Taco Bell," a repetitive single that's equal parts absurd and brilliant, goofy-yet-cerebral rap duo Das Racist have challenged New Yorker cartoonist Farley Katz to a cartoon-off and challenged the musings of its music critic Sasha Frere-Jones, all while throwing their rambunctious live shows and working on an upcoming debut EP, Sit Down, Man.

Before their Southpaw show last night, Das Racist's Himanshu Sur and full-time hype man/part-time member Dap dished on New York's best venues, eras and late-night eats, plus partying with the "Dude, you're getting a Dell" guy.
What did you do last night?
Himanshu Sur: A rap show at Highline Ballroom with Freddie Gibbs.
Dap: Where I kicked my fake gold chain into my friend's sisters face. Felt bad.
What are you doing tonight?
HS: A rap show at Southpaw.
Dap: Performing at Southpaw and drinking Mexican beer.
What's your best nightlife encounter?
HS: There are so many. The only thing that comes to mind isn't about myself but Dap running into Cindi Lauper once.
Dap: They have all been terrible. Got drunk with the "Dude, you're getting a Dell" guy after he got fired for buying weed.
What's your advice for newly elected Massachusetts Senator Scott Brown?
HS: Sit down, man
What's your favorite venue to hear music at in the city?
HS: Big fan of Glasslands and Bowery Ballroom.
Dap: Glasslands gallery.
What's the best show you've seen recently?
HS: The best show in '09 might have been Animal Collective last January.
Dap: Hated 'em all.
What is the audience like at your shows?
HS: White.
Dap: Unimpressed. Disappointed.
Do you prefer going out in Williamsburg or Manhattan?
HS: I prefer Williamsburg as, like myself, most of the people I kick it with live here.
Dap: Computers.
Following a night on the town, what's the best place to get late-night food?
HS: Chicken and Rice 53rd and 6th was a adolescent late-night ritual.
Dap: I don't eat human food.
What other era of New York nightlife would you have liked to experience?
HS: I would have liked to have had beers with Debbie Harry, Richard Hell and Lou Reed.