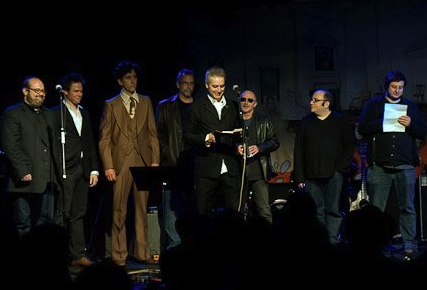 John Wesley Harding's Cabinet of Wonders sets up a whole lot of expectations to live up to, in its name alone. The Cabinet, a folk-rock variety show and concert, comes to Le Poisson Rogue on Bleeker tonight at 10:00, and features such notables as actress Martha Plimpton, writer Rick Moody, comedian Eugene Mirman, Tanya Donelly (of Belly), a ventriloquist and Harding, himself.

The idea behind the show has been to draw together disparate elements for nights of old-school entertainment that sort of defy explanation, but ostensibly mix music and literature (and comedy and ventriloquism).

"I wanted to bring together my novel writing friends (who mostly envy my musician friends) and my musician friends (who mostly envy my novel writing friends) under one flag," says Harding.

So whether you are a fan of Harding and his band, The English UK, the novelist Rick Moody, ventriloquists or just unexpected nights out, get there early to get a seat. But first watch what Merman and Harding have to say about the event.
Copyright FREEL - NBC Local Media