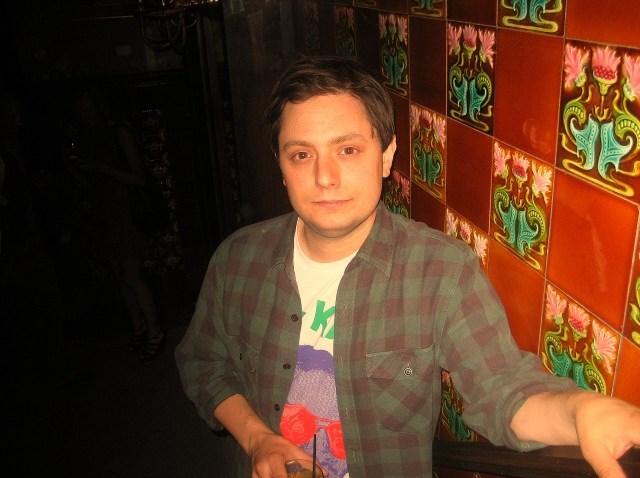 Bushmills threw another boozy bash last night in celebration of their "Since Way Back" campaign, this time replacing the Bowery Hotel with the even fancier Jane Ballroom.
Cocktails were swilled under the old-timey space's shimmering disco ball and drooping palm leaves, photos were snapped as couples and friends posed on a velvety couch and everywhere the crowd murmured how great it was now that the lounge had finally reopened (no word on how many giddy guests were Jane regulars back in the day).
One reveler thoroughly enjoying himself was DJ Nick Catchtubs, who was sipping a drink before taking over deck duties from tag-teaming partner Justin Miller of DFA Records. An instigator behind buzzed-about label Fool's Gold Records (along with partner-in-crime A-Trak), Catchdubs -- a man about town in his own right -- isn't always a regular at such scene-y digs.
"I clean up nice," the always-smiling DJ laughed when considering the locale.
Jokes aside, however, he didn't think throwing a forward-thinking music party at a trendy venue diluted a gig's credibility or vibe.
"You're always going to have stuff that is celebrity-based or scene-based or style-based, but at the same time some of the quote-unquote cheesy parties have been amazing because of the right combination of people and music, and I've been to cool parties that have sucked," he said.
"It all boils down to the energy of the night. That's one of the things that makes DJing so much fun -- it's really kind of unpredictable."
In demand these days as a producer, remixer and festival DJ, Catchdubs still finds the time to throw his own monthly hoedown at 88 Palace, a Chinatown dim sum joint which just so happens to be the location of his favorite friends-night-out in New York experience.
"For my birthday in January, our friends Nadastrom came up from D.C. to DJ, and unbeknownst to me they brought a pinata, and they messed with me all night by peeking out this Elmo pinata from the corner of the DJ booth," he said, shaking his head. "Later on, we smashed it and everyone was dancing and scurrying around for candy before leaving with smiles on their faces and Jolly Ranchers on their shoes."
"People associate New York with upscale, elite, club-going experiences, but I like the fact that we can throw a rave at a Dim Sum restaurant in Chinatown and have people leave with pieces of pinata and candy stuck to them. I like that even in New York you can do things independently."