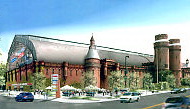 We travel to the Bronx for a moment, if only to show that the only knock down, drag out big redevelopment fights going on aren't in Manhattan and Brooklyn. Tonight is the first big public session about the plan to turn the humongous Kingsbridge Armory into a shopping mall. The city has picked the Related Companies to redo the 575,000-square-foot former National Guard Armory into a $310 million mall. Thus far, the reaction in some places in the neighborhood has been somewhere to the south of friendly. The project is expecting to bring in a boatload of chain retailing, a movie theater and even some big box shopping. It has also spawned a group called the Kingsbridge Armory Redevelopment Alliance, which is a coalition of community groups, churches and unions that is upset that the mall will endanger local businesses and bring in low-wage jobs. Other objections: traffic, pollution, etc.
· Shopping for approval: Public hearing on Kingsbridge Armory mall plan [NYDN]
· Big Kingsbridge Armory Development Plan Draws Protest [Curbed]For more stories from Curbed, go to curbed.com.
Copyright CURBD