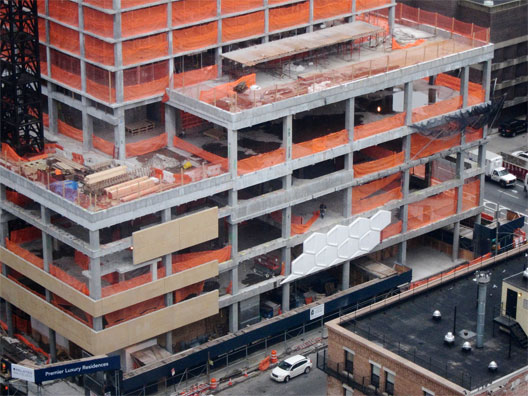 We got a hint earlier this week that the hotel portion of the Related Companies' mixed-use hotel/rental tower at 440 West 42nd Street would be a Yotel, the first U.S. installment of the European pod hotel chain.

The 669-room hotel does, indeed, appear to be happening as rumored. A tipster sends in the above shot with a note: "Looks like the Yotel design you posted for 440 W 42nd is accurate—the nauseating, foamy-looking hexagons have started going up.

I can already envision that Yotel neon sign blaring 24 hours and doing to me what Kenny Roger's Roasters did to Kramer." The 170-square-foot rooms behind the foamy hexagons are supposed to be $200-$250 per night. And may be some of the few places in the neighborhood where those hexagons aren't visible, in which case, interesting marketing strategy!
Copyright CURBD