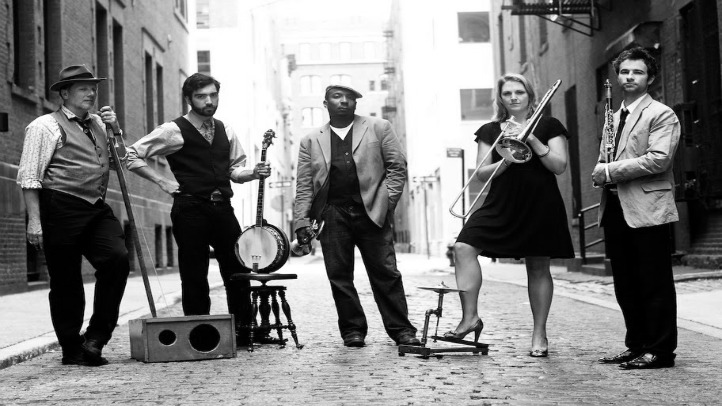 Baby Soda takes a deft spin on the past, offering up traditional 1930s-era jazz with modern panache. The quintet's takes on traditional New Orleans and swing styles are rooted in esoterically retro instrumentalism - -the one-string box bass, a folk staple often dubbed the "washtub bass," is a crowd pleaser -- and made contemporary with lively soul and gospel touches.
The revolving ensemble is authentic without being overly nostalgic, a rare feat in current decade-scrambling Brooklyn.

We gave our Band of the Week pop quiz to Peter Ford, lead singer and box bass player of Baby Soda. He returned it via email, although we also would have accepted telegram.
---

What song says New York to you?
Rhapsody in Blue

What artist or band?
Gershwin

What's your greatest memory of experiencing music in NY?
All night Ghanaian parties in the Bronx.

If you could give one album to everyone in this city, what would it be?

Neba Solo

What is your favorite venue to play in the city?
Barbes -- Sixth Ave & Ninth Street in Brooklyn

What, or who, do you find exciting in the current New York music scene?
Performing New Orleans traditional jazz in the street for an all-ages audience and swing dancers