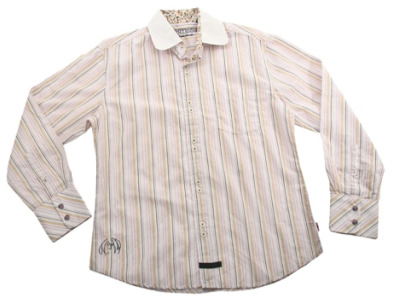 Rock and Roll Religion's label English Laundry has licensed a three-year deal to produce a men's collection: "Designs Inspired by the Art of John Lennon by English Laundry".
The comprehensive collection retails between $30-$170, and derives inspiration from the artwork and wardrobe of the late Beatles frontman. The Yoko-approved designs currently include shirts, blazers and neckwear, all packaged with motifs featuring Lennon's own artwork. A selection of pieces debuted for the holidays at Macy's Herald Square, Hard Rock Hotel boutiques and English Laundry shops in California and China.
There's no doubt that Lennon was a musical prodigy, and his style certainly inspired more than a few back in the '60s, but we're not entirely sure launching an entire brand based on his look seems , but we're not sure men today should be wearing clothing completely based on his look. Though we'll also admit we weren't fans of the Comme des Garcons "Beatles" line either.