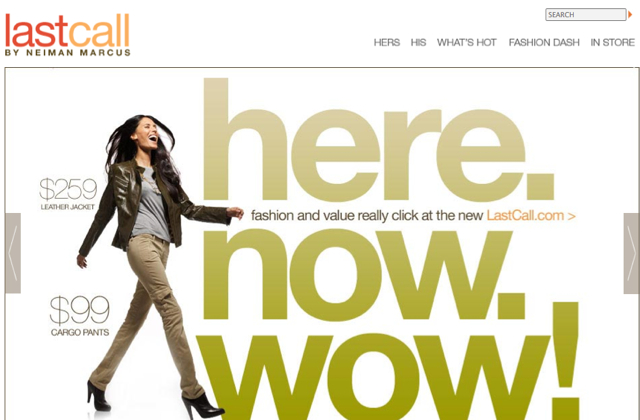 You wouldn't expect to associate Neiman Marcus with the tagline, "Look Fabulous, Be Frugal," but the luxury retailer's reference is to its new offprice shop, Last Call, which just debuted online.
Along with the usual search arrangements - "His" and "Hers" - the site offers a "What's Hot" section too, ediotirally organizing merchandise within trends with catchy names like "Boots Up" and "Lady Likes." The presentation is clean, with crystal clear photography - items are displayed on faceless, chalky mannequins - on pristine white pages. Yes, tempting.
We went right to the heart of things, clicking through to the designer index. While there are plenty of brands listed, from high end designers including Marc Jacobs, Stella McCartney, and Proenza Schouler, as well as everyday wears that include DVF, Tory Burch, and Loeffler Randall, the number in offerings in each were sparse.
Nevertheless we plucked a Rag & Bone black sequin vest for $117 (reduced from $335), Silk Satin Jodhpur Pants by Ranjana Khan for $313 (reduced from $895) and a Posse Fringe Hobo Bag for $290 (reduced from $490).
The company has also included a flash sale component which they've dubbed "Fashion Dash." Since we just signed up we can't tell you too much about it, other than it promises timed sales throughout the day.
All in all, the site's worth a visit for its discounted on-trend items but like any outlet, if you're looking for something specific, it's hit or miss.