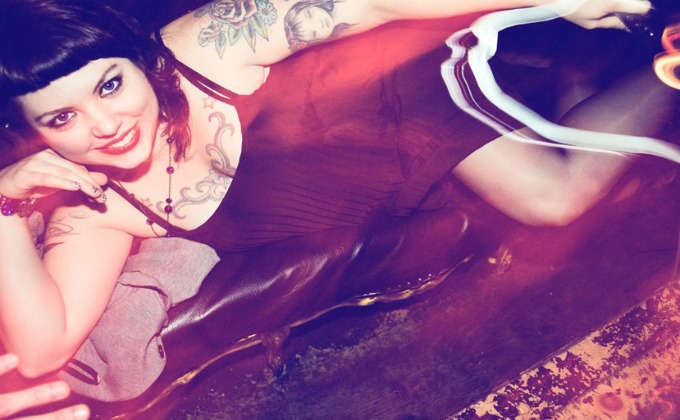 As Hanukkah begins and Christmas approaches, we ask you: is your holiday playlist in proper order, or are you leaving it up to Pandora to entertain your guests with Bing Crosby and David Bowie? Without a lively and festive slew of tunes consider your holiday party a complete bust.

We asked one of the hottest DJs in town, Amylulita -- one half of the craziest Spanish-alternative dance party Nacotheque -- to help you out with this crucial dilemma and prepare the coolest Christmas mix this side of the North Pole.

Nonstop Sound: When throwing a holiday party, what is the most important thing you should avoid as far as music is concerned?

Amylulita: "Honestly, music selections depend on the type of party you are producing – dance party, dinner party, or cocktail party. It also depends on what kind of people the party is for. I'm a huge holiday music fan but I've found that not everyone likes listening to jolly Christmas songs all night long so it's best to only add a handful of holiday songs into the mix of regular music setlist."

NS: What are some holiday songs that are really great, but that most people don't know about?

* "Dónde Está Santa Claus?" – Augie Rios (1958)
* "Christmas Wrapping" – The Waitresses (1981)
* "'Zat You, Santa Claus?" -- Louis Armstrong
* "Merry Christmas (I Don't Want to Fight Tonight)" -- The Ramones
* "Give Da Jew Girl Toys" – A Plus D (from A Very Bootie Christmas album)
* "Are You Gonna Stop The White Xmas" – Bad Tattoo (from A Very Bootie Christmas album)


NS: What is your secret to mixing a good holiday playlist?

A: "I like to include fun holiday classics as well as some oddball songs that will make people giggle…after a few glasses of spiked eggnog."

Bonus: round out your mix with these holiday classics:

* "Rockin' Around The Christmas Tree" – Brenda Lee
* "Jingle Bell Rock" – Bobby Helms
* "Run Rudolph Run" – Chuck Berry
* "Wonderful Christmas Time" -- Paul McCartney
* "Last Christmas" -- George Michael
* "Holly Jolly Christmas" -- Burl Ives
* "Feliz Navidad" -- Jose Feliciano

And these oddball holiday classics:

* "I Want a Hippopotamus for Christmas" -- Gayla Peevey
* "The Chipmunk Song (Christmas Don't Be Late)"
* "Santa Baby" – Madonna
* "Funky, Funky Christmas" – New Kids on the Block
* "Christmas in Hollis" - Run DMC
* "I Saw Mommy Kissing Santa Claus" – Jackson Five
* "Santa Claus Is Watching You" -- Ray Stevens
* "Nuttin' For Christmas" -- Barry Gordon

DJs Amylulita and Marcelo C will celebrate the New Year with Nacotheque End of the Year Celebration: Nacolipsis! At 10 p.m., Fontana's, 105 Eldridge St., complimentary Champagne at midnight, $18 advanced tickets.