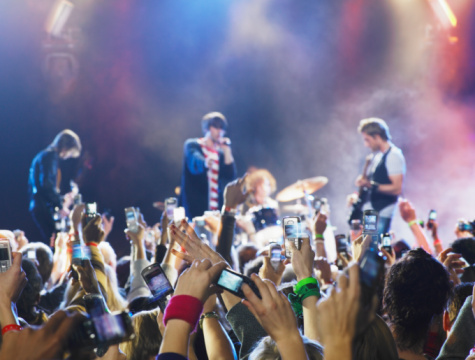 As music writers, we're used to writing hyperbole, but here's one understatement: The annual CMJ music fest can be overwhelming. From all the official acts, unofficial parties and random stuff in general you'll run into, there's nothing quite so daunting as trying to plan your trek through the week.
That's why we're here. Below you'll find our top 15 CMJ shows. Most are unofficial, and it would be impossible to catch them all - though a lot of them are in the same neighborhood and you could walk back and forth to/from. We've also included a mix of free and not-so-free picks - the ticket prices shown reflect advanced buys.
What'd we miss? Tell us in the comments how bad we are at music!
Tuesday, October 18:
Underwater Peoples Showcase, Public Assembly Loft, 8p.m., Free: La Big Vic, Air Waves, Family Portrait, Future Shuttle
PopGun/Stereogum Present, Glasslands, 8p.m., $15: Titus Andonicus, Delicate Steve, Chelsea Wolfe, Mr. Dream, Cuckoo Chaos, Hollerado
Carpark/Pawtracks Showcase, Public Assembly, 8 p.m., Free: Jimmy Whispers (Light Pollution), Adventure, Young Magic, Cloud Nothings, Dent May, Class Actress
285 Kent Ave, 8 p.m., $8: Friends, Grass Widow, Coasting, Air Waves, Baybee Teeth
Wednesday, October 19:
NYC Taper Presents, Cakeshop, 12 p.m., Free: Teletextile, Prussia, Hoop Dreams, White Fence, Tristen, Widowspeak, Savoir Adore, Mr. Dream
Scenic Presents, Europa, 7 p.m. $12: Chelsea Wolfe Religious To Damn, Hunters, The Love Butchers, DJs: Todd Pendu, ElectricLady
Domino/Ribbon, Stereogum, Todd P and Software CMJ Party, 285 Kent, 8 p.m., $10: John Maus, Twin Sister, Oneohtrix Point Never, Deradoorian, DJs Deakin and Geologist (Animal Collective)
Jagjaguwar/Secretly Canadian/Dead Oceans Showcase, Union Pool, $12: Exit Music, Porcelain Raft, Parts & Labor, Gauntlet Hair, A Place To Bury Strangers
Thursday October 20:
WNYU Showcase: Littlefield, 8 p.m., $8: Noveller, Amen Dunes, Blues Control, Talk Normal, Widowspeak, & Frankie Rose
Life or Death Showcase, Cakeshop, 8 p.m., $12: Evan Voytas, Chelsea Wolfe, Psychic Ills, Chrome Sparks, Wise Blood, Main Attrakionz, Trash Talk, Special Guests
Friday October 21:
Brooklyn Vegan Showcase, Music Hall of Williamsburg, 6p.m., $15: Blue Hawaii, Pepper Rabbit, Weekend, Active Child, Braids
Impose/Art Fag Showcase, Shea Stadium, 7 p.m., Free: DJ Toy Story 3, Young Prsims, Plateaus, Colleen Green, Bleached, White Fence, Special Secret GuesTTs (presented by Terror Eyes)
Saturday October 22:
Converse Presents True Til Def, Santos Party House, 6 p.m., Free: Elks, Primitive Weapons, TFW, Mouthpiece, Main Attrakionz, Mr. Exquire, Action Bronson, Kylesa, Trash Talk, Youth of Today, AraabMUZIK
Consequence of Sound October Party, Southpaw, $7: Miniature Tigers, The Stone Foxes, Mr. Dream, Is Tropical, Pujol, Arms, Nerves Junior, Bosco Delrey
Altered Zones, The New Museum, 8 p.m., $20: Atlas Sound, AraabMUZIK, Trash Talk, Eric Copeland, Grimes, Light Asylum, Prince Rama, Xeno & Oaklander, Teengirl Fantasy, FORMA, Dive, DJs: Ayshay, Main Attrakionz, Todd Pendu, Weird Magic, Awesome Tapes From Africa