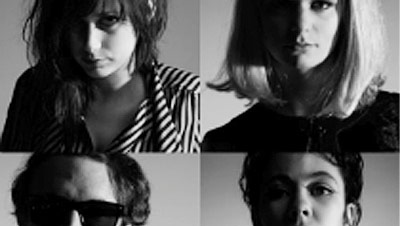 Who: Three ladies (and one boy, but the band is really all about the ladies) churning out take-no-prisoners retro-rock tinged, at times, with a little punked-out country, prerogative of their Murfreesboro, Tenn. homebase. Those Darlins may have started out covering country standards, they've jettisoned the poufy dresses and the honky-tonk irony. They hit NYC this week, opening for Black Joe Lewis & the Honeybears at Bowery Ballroom on Friday and Saturday March 25 and 26. Then on March 29, their album Screws Get Loose comes out on the Oh Wow Dang label.
Reminds us of: The Ramones meet the Shangri-Las meet the Carter Family
Download this: Grab the album's title song "Screws Get Loose" at the band's website. and check out the video for another album track, "Be My Bro," below.